Recirculate: Navanethem Pillay, §731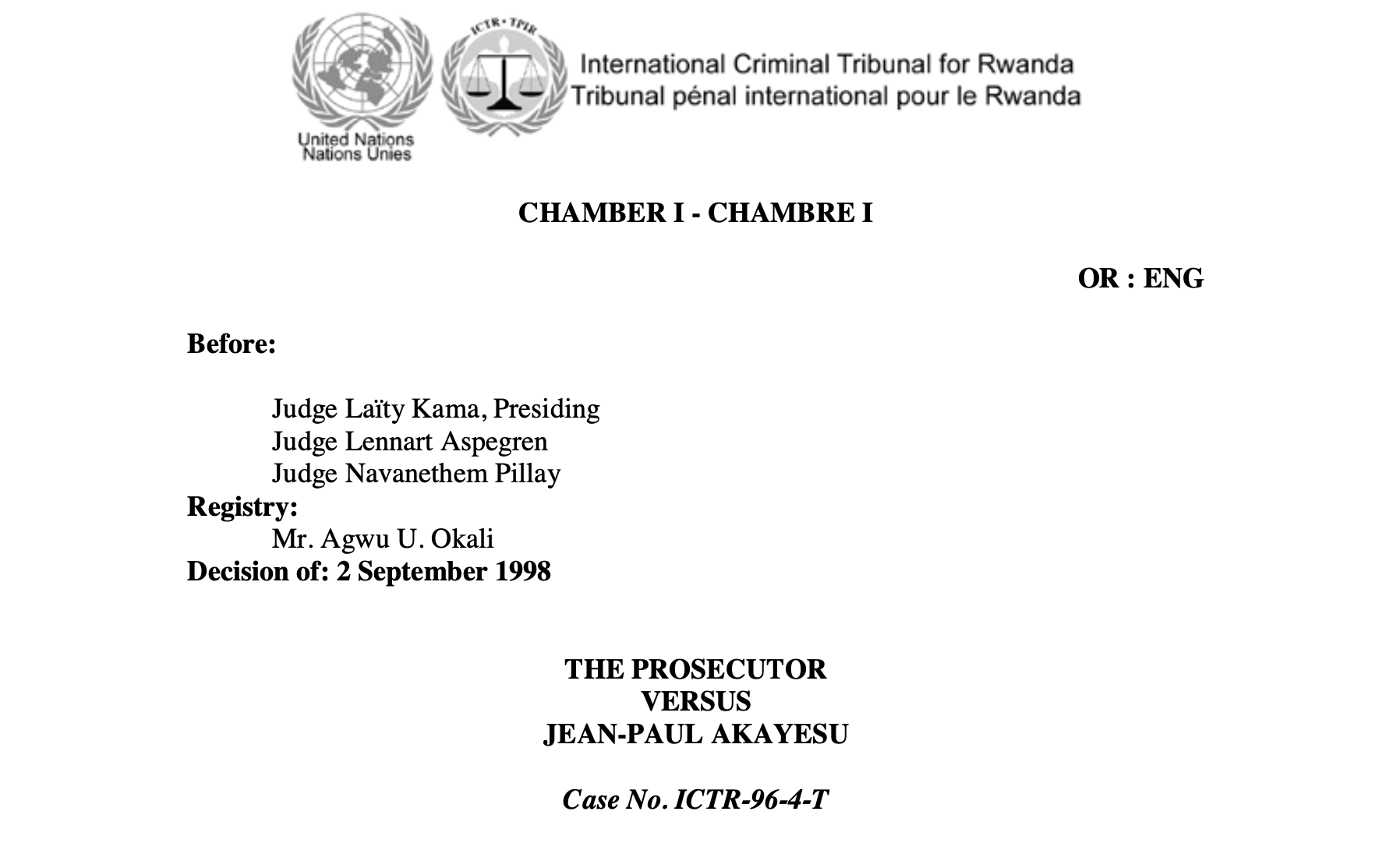 §731
With regard, particularly, to the acts described in paragraphs 12(A) and 12(B) of the Indictment, that is, rape and sexual violence, the Chamber wishes to underscore the fact that in its opinion, they constitute genocide in the same way as any other act as long as they were committed with the specific intent to destroy, in whole or in part, a particular group, targeted as such. Indeed, rape and sexual violence certainly constitute infliction of serious bodily and mental harm on the victims 181 and are even, according to the Chamber, one of the worst ways of inflict harm on the victim as he or she suffers both bodily and mental harm. In light of all the evidence before it, the Chamber is satisfied that the acts of rape and sexual violence described above, were committed solely against Tutsi women, many of whom were subjected to the worst public humiliation, mutilated, and raped several times, often in public, in the Bureau Communal premises or in other public places, and often by more than one assailant. These rapes resulted in physical and psychological destruction of Tutsi women, their families and their communities. Sexual violence was an integral part of the process of destruction, specifically targeting Tutsi women and specifically contributing to their destruction and to the destruction of the Tutsi group as a whole.
The judgment in its entire length can be found here: unictr.irmct.org/sites/unictr.org/files/case-documents/ictr-96-4/trial-judgements/en/980902.pdf
Navanethem Pillay, who used to be one the first judges at the ICC, was, before, at the International Criminal Tribunal for Rwanda (ICTR), part of the chamber which made rape recognised as a crime against humanity, and not just a collateral damage, and as an element for a genocidal policy. 
The paragraph has been selected and proposed by Franck Leibovici.
Since 2014 Leibovici and the social sciences researcher Julien Seroussi, have been conducting an analysis of documents produced during trials held at the International Criminal Court of The Hague (The Netherlands). These documents are handled with tools from the field of art and poetry, in order to offer possible models that could be useful for practitioners of international justice.
"Other ways of doing —art, law or social justice", a conversation with the artists on Switch on paper. 
Frank Leibovici, an artist and poet, has attempted to portray, in the form of exhibitions, performances and publications, so-called "low intensity" conflicts from a documentary point of view by using graphic scores and notation systems from experimental music, dance, linguistics—–he is currently working, with julien seroussi, on a new cycle of exhibitions and publications (bogoro, eds. questions théoriques, 2016; muzungu, bunkier sztuki, krakow; ngbk, berlin, 2017; cité internationale des arts, paris, 2018; école nationale de la magistrature, bordeaux, 2019; international criminal court, the hague, 2019-2020) around the invention of contemporary international justice and the first trial of the international criminal court (icc) of the hague.
Event category