Recirculate, Refocus: Songs of War, Part I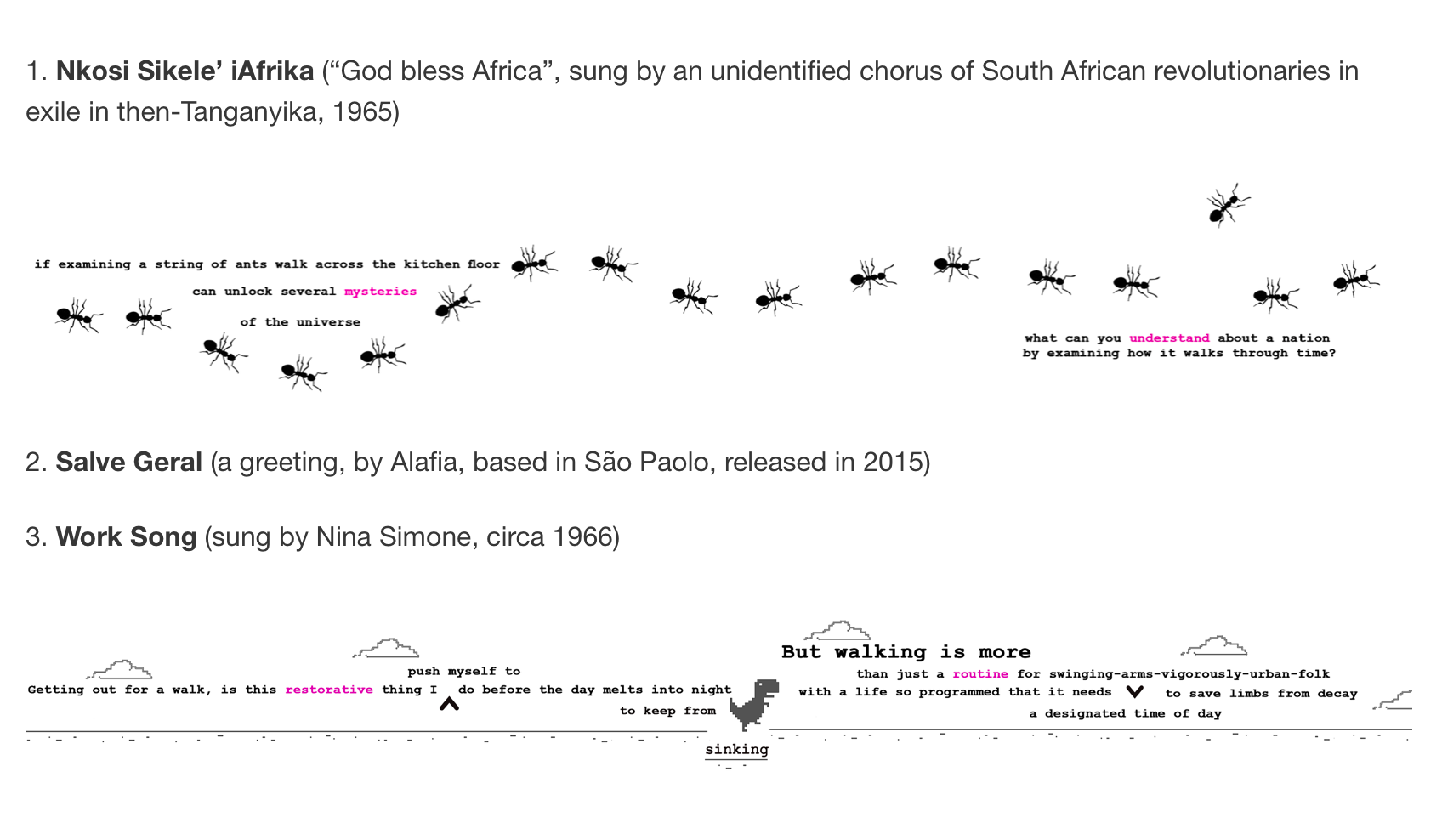 A special from Inflight Magazine, Lines of Consent. with a Mixtape, a short history of Protest Songs selected by Neo Muyanga and storyline drawings by Afrah Shafiq, Walking is more, 2020.
"These songs of protest are not, in actual fact, music. That is to say, we certainly do not regard them in the way we would describe, say, a hymn or a pop song performed in its usual context. You won't hear these protest songs played on your favorite radio station in the same way — certainly not in South Africa — since no one listens to this material; everyone (potentially) does this material when the circumstances call for it to be enacted." (Neo Muyanga in conversation with Brad Evan)
neo muyanga was born in soweto. he studied the italian madrigal tradition with choral maestro, piero poclen, in trieste, italy. in the mid 1990's he co-founded the acoustic pop duo, blk sonshine with masauko chipembere, garnering a following throughout southern africa and internationally. neo writes music plays, chorus songs and has a variety of works for chamber and large ensemble (his operetta, "the flower of shembe", premiered to critical acclaim in 2012). he continues to tour widely both as a solo performer and in various band guises. neo co-founded the pan african space station in 2008 with chimurenga's publishing editor, ntone edjabe, as a continually evolving host of cutting-edge pan african music and sound art on the internet and across stages in cape town and other parts of the globe. 
Afrah Shafiq is a multi/new media artist based out of Goa. Using the process of research as an artistic playground, Afrah intertwines archival findings, history, memory, folklore and fantasy to create a speculative world born of remix culture. Her work moves across platforms and mediums, seeking a way to retain the tactile within the digital and the poetry within technology. When she is not glued to her computer, she also makes glass mosaics.
Event category