Mixtape: Air-Waves, Wasserbändiger, and Afro-Phonics
A Mixtape with Memory Biwa and Rob Machiri. As part of the Listening at Pungwe project you listen to Air-Waves, Wasserbändiger, and Afro-Phonics: Time-Space Bending and its Sonic Overflows.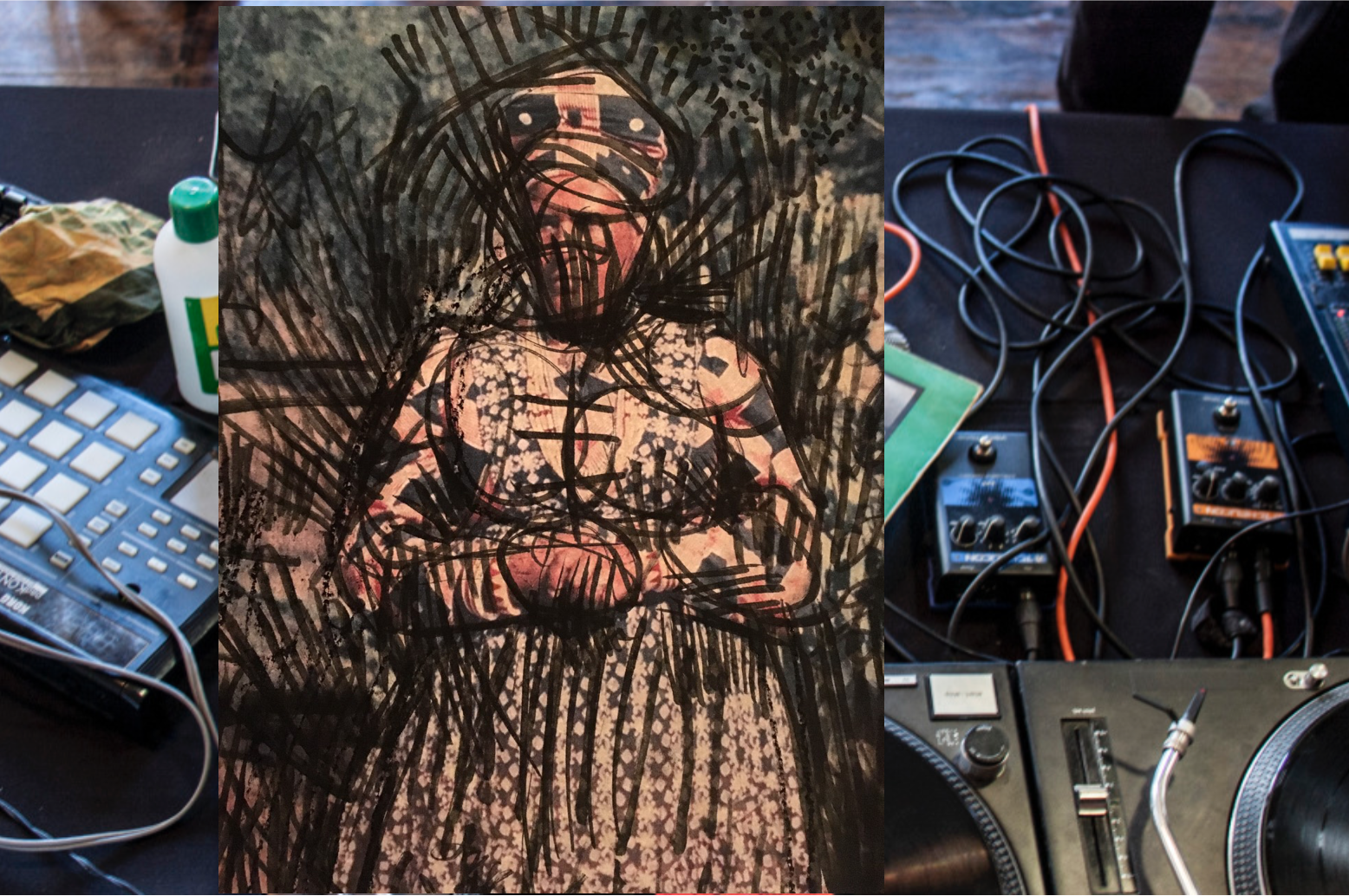 Image: Robert Machiri's performative sonic markings atop a photograph of Lena Venter, whose storytelling prowess recorded in Okahandja, central Namibia in 1954, is a recurrent focus in the Listening at Pungwe project. Venter's voice is distinctly yet distantly present in the radio broadcast.
The mytho-historical tale, that carries this broadcast, is unleashed by Machiri's deep elongated water sounds that he records in the studio in the late morning. Jumoke relays how she usually writes poetry while listening to music, and retells the story that unfolded along the Pangani River, which dips into the turquoise-blue of Unguja and Pemba islands. The tale is of Kingigitile 'Bokero' Ngwale, who possessed by the spirit-medium, Hongo, recruits fighters against the German invaders. In the war the fighters protect their bodies with water, 'maji-maji', (water, castor oil and millet) against the blazing bullets of the Germans. Not only are we recording in the month of July when the events we are discussing took place, more than a hundred years ago; but this morning it was announced on radio that the Tanzanian government would continue ongoing reparations talks with the German government.  The presentation takes an unexpected turn, and we overlay many decades of vinyl recordings, with songs, poetry and our momentary gestures into the past.
(Postscript) The recording with Jumoke Adeyanju, Robert Machiri and Memory Biwa was conceived as a radio broadcast for DeutschlandFunk Radio in September 2019. An alternative iteration of the work of 'Listening at Pungwe', titled, "Dzimudzangara: A Spectral Figuration of Archival Voices" was featured at the SAVVY, 'Untraining the Ear: Listening Sessions', Berlin, Germany.
Memory Biwa is a historian who lives in Windhoek, Namibia. Biwa's work combines memory, performance, sound studies and archival theory. Her research focuses on narratives and re-enactments of violence and resistance to colonial war and genocide across southern Namibia and Northern Cape, South Africa. Her research on a 1950s sound collection from central Namibia has developed her interests in oral/aural sonority and performative excess. The project has expanded into a collaborative performance project, Listening at Pungwe, with Robert Machiri.
Robert Machiri—Chi aka Chimurenga (b. 1978 Robert Machiri ) is a Zimbabwean multidisciplinary artist based in Johannesburg. Machiri's work exists at the juncture of two streams of practice; his curatorial concepts and a multi-disciplinary production of artworks. His most notable project PUNGWE traverses disciplines circling African soundings with related contemporary arts discourses and spaces
Event category