Slow Education: Cracking the Playlist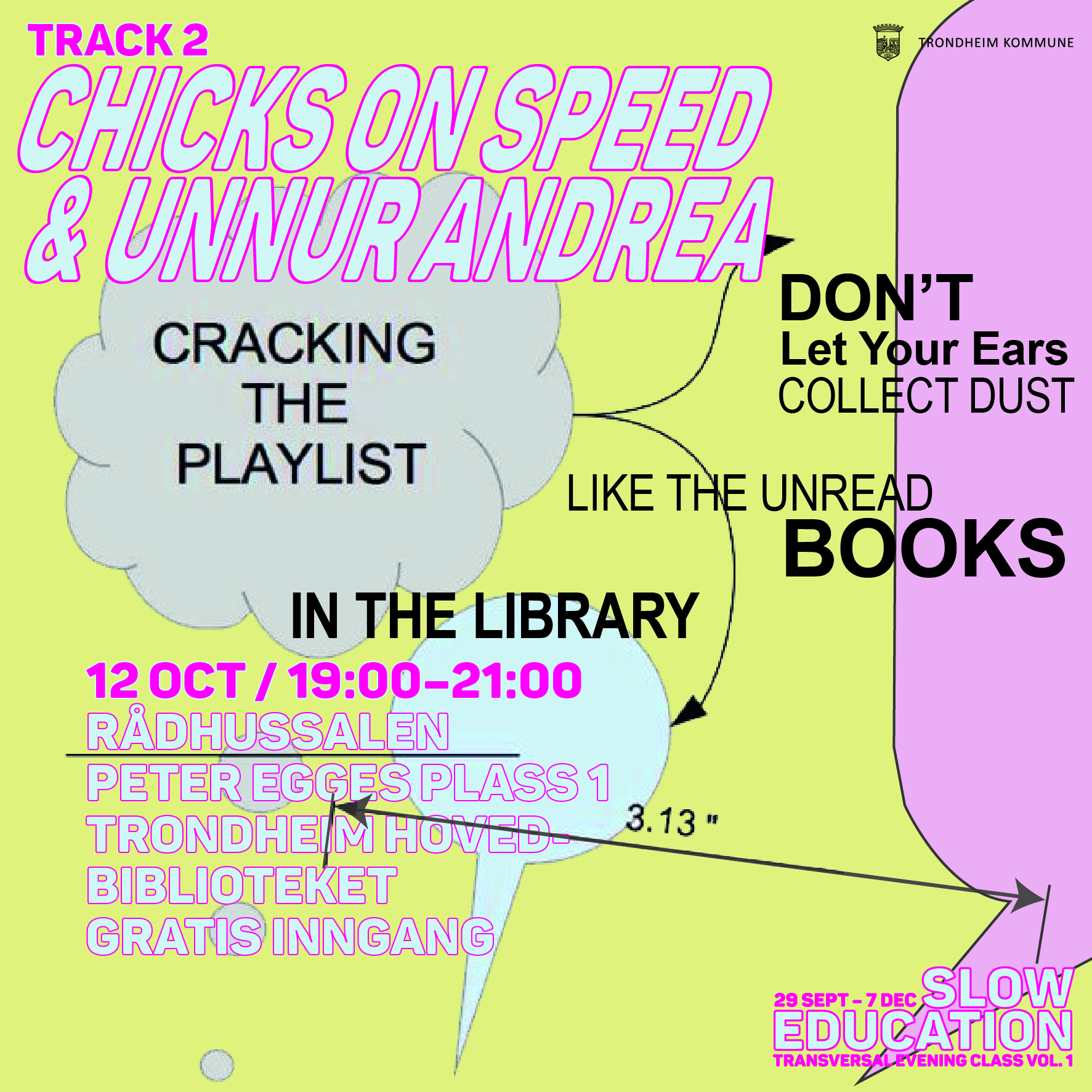 Listening Session 
Don't let your eardrums collect dust like the unread books in the library. To crack the algorithms you just have to make a choice, Making a choice can make you listen what you might have never heard before. Look into the glitch, the open space, carry on the message that may have started 60 years ago into the future. Support your local library, fill your frontal lobe and the rest of your brain with pleasurable and disturbing sounds of cultural agitation. Crack the playlist now. Don't let your eardrums collect dust like the unread books in the library. (Alex Murray-Leslie, Melissa Logan, Unnur Andrea Einarsdottir)
Mind your own business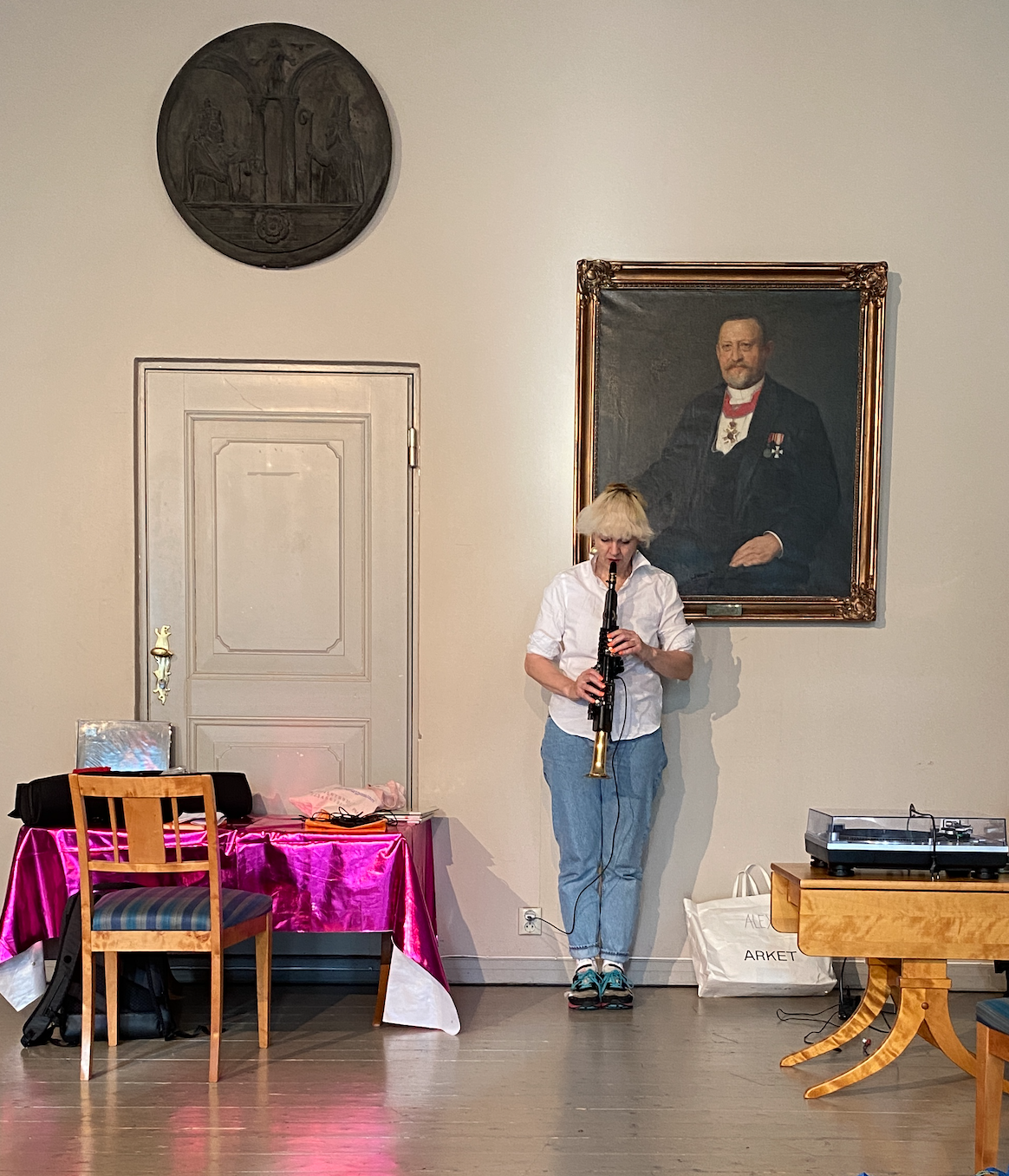 The CRACKING THE PLAYLIST Playlist
Be aware, the images are links leading to sound, voices, stories.
Photography of the performance: Srinavin Kumar Raja; Sound Recording: Prerna Bishnoi; Moving Image: Mohammad Bayesteh; Technical Set-Up: Arild Sørheim. Thanks for support and for enlarging future playlists: Stian Stakset and Aslak Eide Bø.
Singing to the birds in double voice
Yma Sumac: Gopher (1954)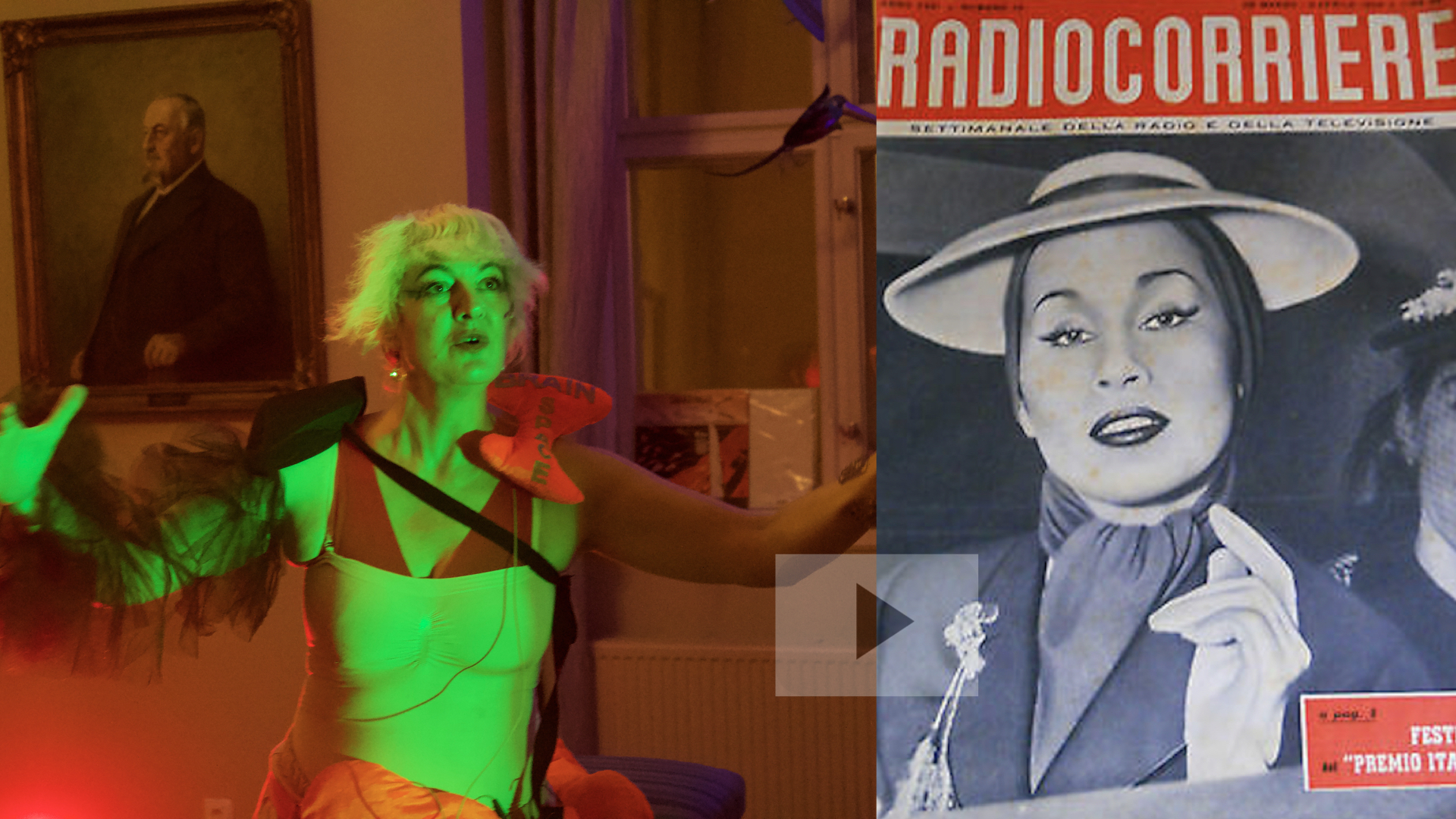 From Baroness to Baroness via an airline, guitars and readymade associations 
(or, don't chose a record by its cover)

Survival Strategies
The Flying Lizards: Money (1979)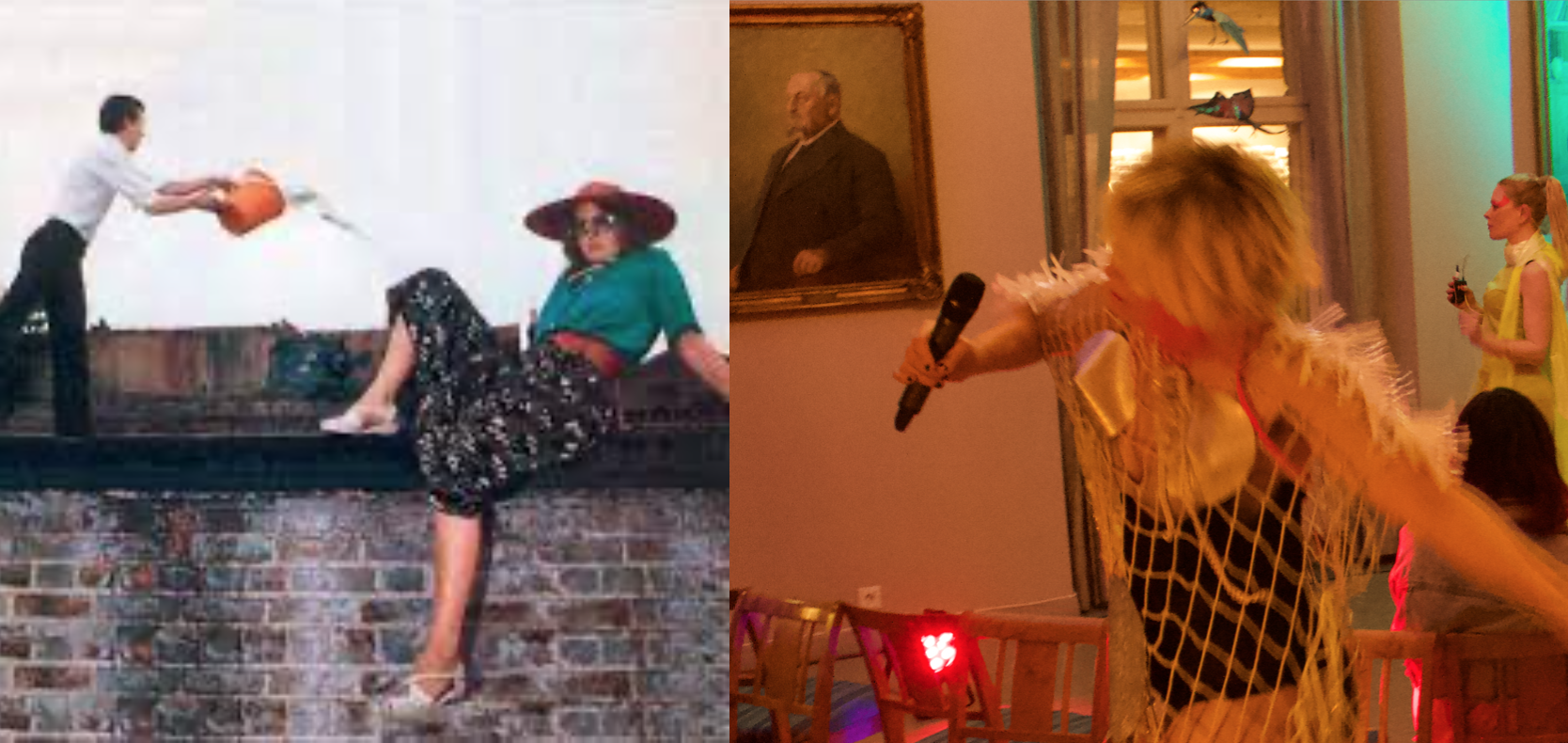 From Mouth to Voice 
Björk (Mouth Mantra) fading into Maja Ratkje fading into Björk via Trondheim Voices

When a fishbone becomes criteria for good sound
Burial: Rival dealer - come down to us (2013)

"I wanted to make a half euphoric record. That was an older thing that UK underground music used to have. I think that type of euphoria is a British thing, like UK tunes, old rave tunes used to be the masters of that, for a reason, to do with the rave, a half smile, half human endorphins and half something hypnotized by drugs. It was stolen from us and it never really came back. Mates laugh at me because I like whale songs but I love 'em, I like vocals to be like that, like a night cry, an angel animal. Old hardcore tunes would throw these sounds in, anything to create the rush, descent into another world, like Papua New Guinea by Future Sound of London. love this one feeling, it only happens to you when you're out in the cold, when your down, this shiver attempts to warm you up, bring you back. For a moment you get this weird, eerie distant feeling like it's just for you, you get taken out of yourself. Certain tunes just nail that. So I had to do that, but have cut-up vocals and have that slinky bumping feel to it, and not get weighed down in big drums and the big snares. With Garage the drums are taken back, they're quite soft, it's more about being slinky. They're like a fishbone, a spine, an exoskeleton that cradles the sounds. It's not about the deepest kick or the biggest snare. The drums are more about trying to thread sounds and vocals together, they flicker across the surface of the tune, it circles around you, its not just chopping you up, its not about the sounds being big." (From an unedited transcript of an interview with Mark Fisher for the The Wire)
Belonging to larger links...
beginnings in non-chronological order, starting in the 1990s: discovering The Slits (Typical Girl, 1979) via Bikini Kill (Suck my left one, 1991) followed by Miss Kittin (1998).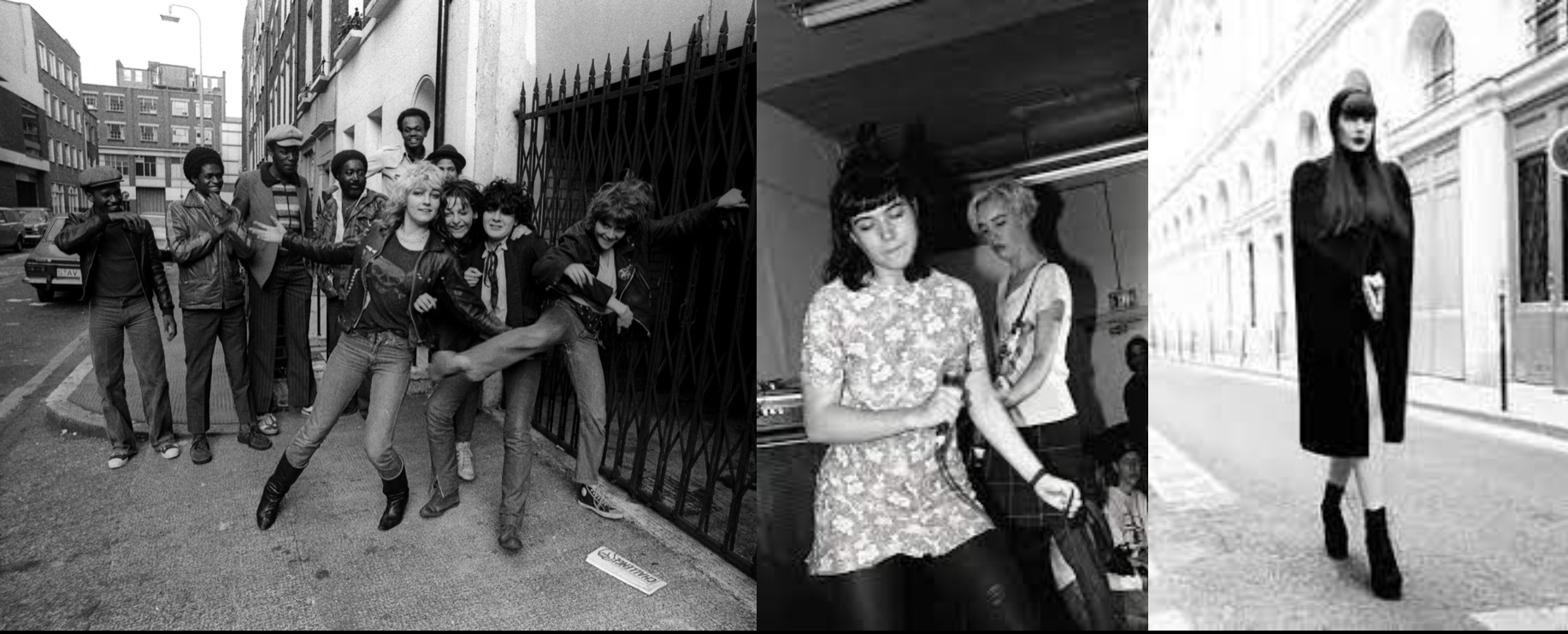 Cracking Keep Cracking the Playlist
just Cracking the Playlist -- with Marie Davidson (The Psychologist, 2018)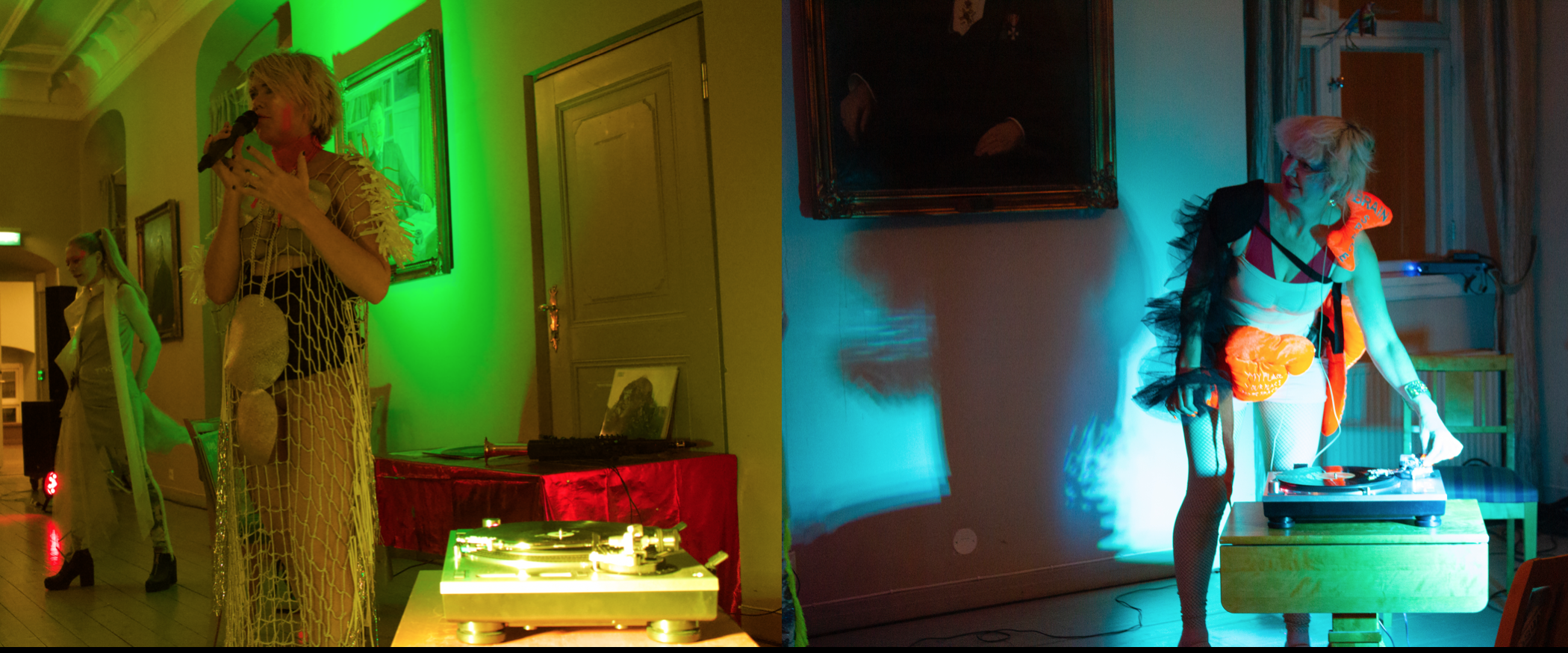 Music is not timeless, it marks time:
How a fishing factory in Iceland is connected to Papua new guinea (via Future Sound of London, 1991) ...
... and then fades into Sun Ra, coming back from outer space with a golden record (1977), which leads to Laurie Spiegel, a digital saxophone and Sisters with Transistors —— until Salt-N-Pepa are Pushing (1987) back

"Spiegel supplied a few thoughts about what it's like to have a work of hers wending its way into deep space. 'I often think of those craft as sad and lonely,' she told me, 'so very far from home, moving ever farther into the cold and the dark, sensing more and more hungrily for the slight, fading, low-level warmth of the increasingly dim sun. Yes, it is an amazing accomplishment for us humans, but it can also generate a feeling that a small part of us, the accumulated living habitation of this planet, has been propelled farther away from its home than anything ever should be. The rational part of my mind knows that I shouldn't anthropomorphize, and see the Voyager as a being in exile or even as an extension of our own organic sensory systems. Possibly, my doing so is a carryover reaction from my horror and sadness when I learned of the Soviet dog, Laika, who died on the Muttnik (Sputnik 2) space mission that launched when I was twelve. We know all too well what a double-edged sword our technological and information-structuring brilliance can be.' ("As The Years Go By, And The Ambitions Of The Space Age Fade, The Golden Record Takes On A Melancholy Power" on afflictor.com)
Bonus Track: Conversations with the journalist, photographer, entrepreneurial spirit Tam Fiofori from Lagos, who became Sun Ra's manager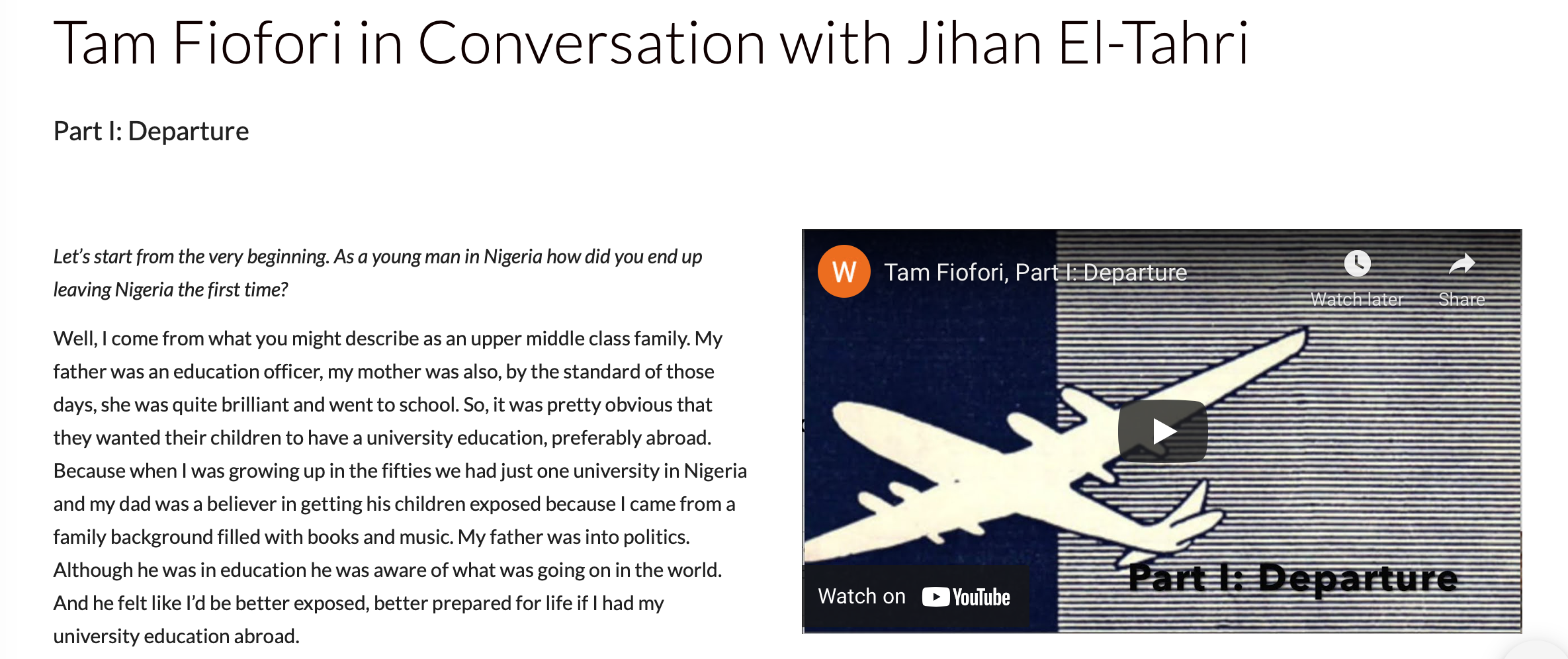 Re-take: Mind Your Own Business
Down to Earth spaces, taking space by entering through the back door with a flavour and in favour of non-perfect virtuosities 

Event category