Looking for Colette Omogbai
The decision to look for Colette Omogbai, a promising artist from the 1960s who vanished from the art scenery soon after, brought us to Lagos. Together with a painting of hers, Agony, that travelled from Bayreuth's Iwalewahaus to CCA Lagos and back. The attention towards her and her painting could be the beginning of a serial mystery story—definitely a story to be continued.
Colette Omogbai became a frame, a thread, a cause. She triggered the questions of and for research. A research alongside ..., in the perception of relations. Once the decision is made to go sideways—not to look for central figures but for their collaborators, the ones who were and are active alongside, who are involved but don't get the attention—once that shift is made, the historic narrative becomes interwoven with a plurality of characters potentially hiding in the archive. Wherever that be. In archives that might show up while becoming a character, and multiply as such. And all of a sudden so many female names pop up, and it is no longer a complaint about their going missing but the question, what is it that makes us not see them?
 
"Man does not challenge the voice of a strange bird when it sings an unfamiliar song. But he questions modern trends. Twisted legs and elongated necks, hair made of roots and blue body beats his imagination. 'What on earth is this?' Man asks with disgust. 'Are these legs those of a monster, the neck like that of an ostrich and the torso as though a hungry stricken creature from the concentration camp?' 
(Colette Omogbai, Man loves what is sweet and obvious, 1965)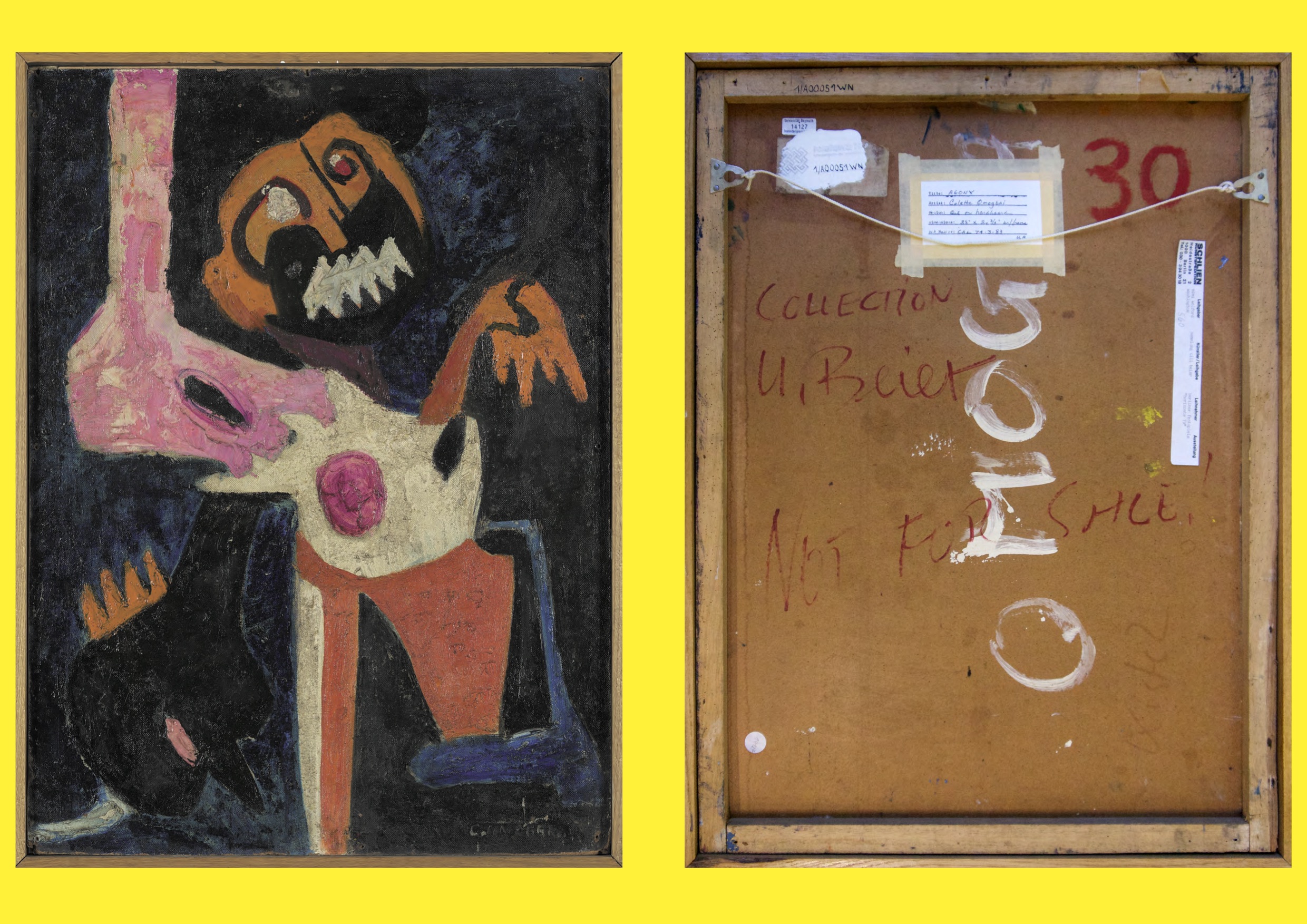 "The most recent artist from Zaria is Colette Omogbai, from Benin [Benin City], who has found a vigorous style of her own."
A prognosis by Ulli Beier, 1968
---
"Art to man, is not a thing in itself. It is dependent. Paint must be explained in terms of words and in storytelling words too."
A Manifesto, 1965, by Colette Omogbai
---
Following Agony (1963-2018) and a compilation of quotes by Nadine Siegert
---
It seemed like a riddle, terse as a telegram, not even a comma: "Colette Omogbai a surrealist contributed Man loves what is sweet and obvious."
Getting side-tracked with Michael C. Vazquez
---
"I embarked on a trip to Calabar to research the archive of late Afi Ekong, a female modernist artist and entrepreneur who operated the Bronze gallery. In her very rich archive I found a letter from Colette Omogbai inviting Afi Ekong to Olokun Gallery in Benin City where Omogbai worked as secretary in 1965. This, at least, provided another piece in the puzzle of the artist's activities after her return from Slade."
by Iheanyi Onwuegbucha, 2018
---
"I saw the quote come up on the screen.
It was sensational. There were immediate side discussions laced with different blends of onomatopoeia."
A poem by Odun Orimolade, 2018
---
"The title Searching for Colette Omogbai is really good; it takes me back to my first trip to Iwalewahaus where I went to research at the archives. There they have only one work by one woman and that is, Colette Omogbai."
A conversation between Odun Orimolade and Ndidi Dike 
---