Women on Aeroplanes touched down in virtual ways from 19 to 28 June—out of and towards Johannesburg. Readings, conversations, film streamings, visits, mixtapes, archival material became a web that reflects and addresses issues of law, rights, legislation, and legality..... . To create a Public Hearings online festival out of and towards Johannesburg, and not a trial.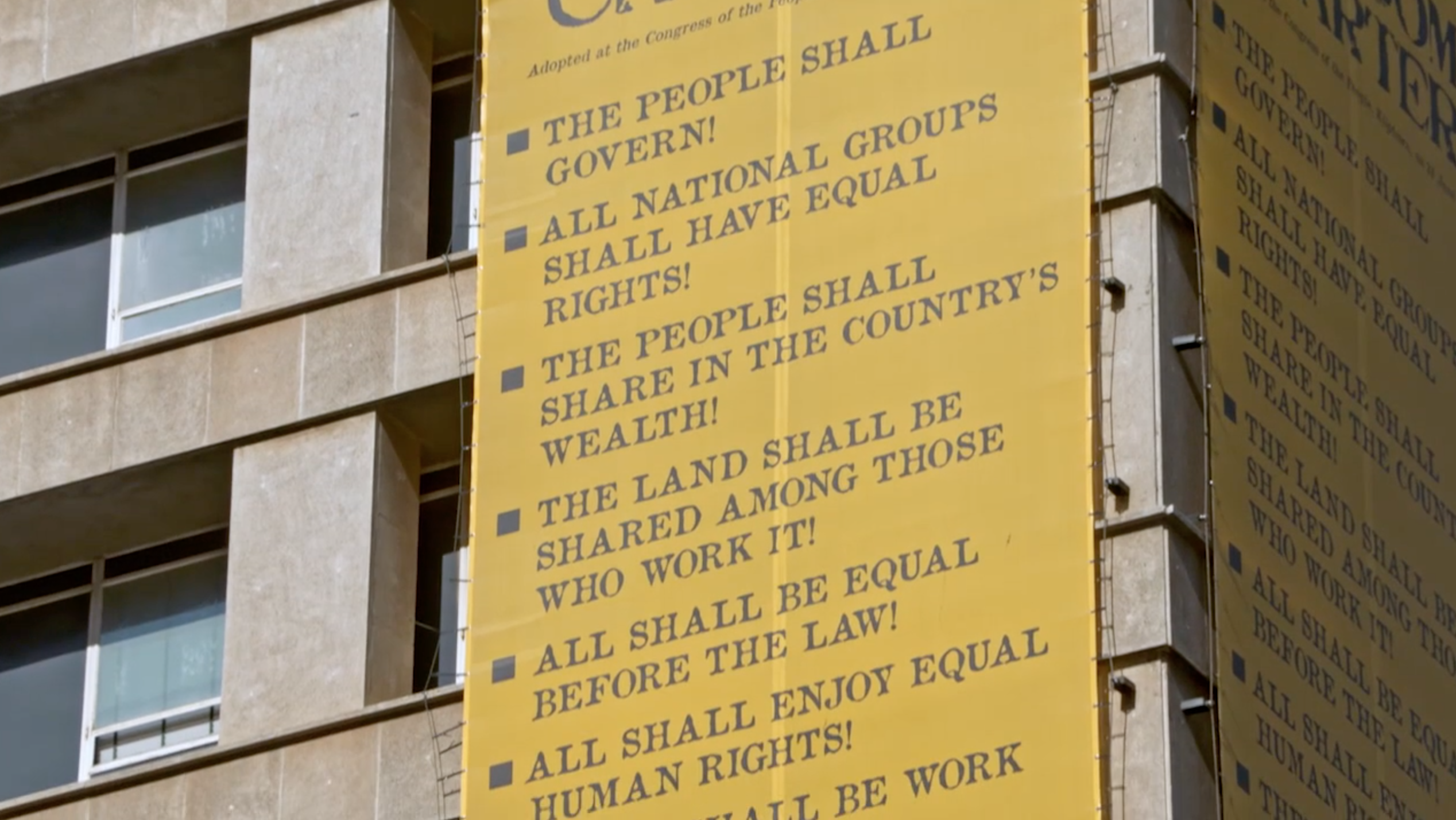 One is constantly losing friends these days. […] For those of us who are still here, life becomes lonelier and intensely isolated. South Africa is an intensely lonely, intensely sad country. It must have always been but you only begin to notice the loneliness and sadness when all your friends are gone. Friendship is like the part of you that is not very brave; and, if you have friends you find yourself rising to extraordinary heights of strength. You get up to crazy schemes; you talk crazy and it is as though with your friends you will fix up all the wrongs in the world. Suddenly that happy, warm laughing world is shattered and you are left alone to face a horror too terrible to contemplate.
Bessie Head, "Letter from South Africa," in: Transition No 11, 1963.
Bessie Head's lines to the editors of Transition Magazine in 1963 resonate in an irritating way. Hear, read her sentences can make us forget the leap in time, even though everything has changed over time. Words come closer at a moment of crisis and loss, when all senses are sharpened and conditions intensify, when physical distancing becomes the key measure to respond to the managerial challenges posed by Covid-19 spread.
World making across geographical distances, disciplines and classes, organising gatherings at various places, bring people together who might not meet otherwise, these are the kind of forces propelling the Women on Aeroplanes project; find a space to inspire and confuse each other with insights, ideas, laughter, to question methodologies, raise each other "to extraordinary heights of strength". To create a synchronising momentum as a means of research to find out what is at stake. We always emphasised the importance of a physical space and encounter, of a local context that connects transnationally. 
Public Hearings, a series of readings in various places in Johannesburg is what we had in mind—linked to the history and histories of law, legislation and legality, but coming from outside the law machine—readings of texts, songs, fiction, essays, claims by women authors/writers/artists. There is no way to replace an actual encounter with another online meeting and it's impossible to translate all the layers into virtual space, but collaborative creativity will open up new possibilities to connect and communicate by all means necessary over near and far distances.
Since with the pandemic a policy of state of emergency became a global modus operandi, it seems all the more important to look closely at periods of transition and transformation in terms of the implementation of separation, segmentation, segregation along new laws and the way these laws have shaped and shape our reality.
Against all odds we propose an online festival, a celebration—a cheerful event of a few days: something timely untimely that subverts the logic of a trial. A festival offers a grid for heterogeneous forms, formats, spaces and times and allows asynchronous synchronization and intensification. Synchronising means establishing continuity (between fragments and displacements) and finding lines (creating and connecting ways of thinking) that help direct the eyes and ears towards independence, interdependence, struggles for freedom and equal rights in relation to what is happening now. Let's stay tuned, surf the momentum. Who knows where we are at later.
Matters: texts, magazines, publications of all sorts; novels, short stories, letters; images, drawings, wood cuts; pamphlets; photos; postcards; covers; biographies; songs; poems, jazz, compositions; details, fragments, footnotes, bibliographical sources; family albums; archives; they provide material to look at, to read, to display and make them visible from a present perspective.
Texts/Works by: Etel Adnan, Hannah Arendt, Auntie Gladys, Suzanne Césaire, Hélène Cixous, Shirley Graham Du Bois, Sophie Gumede, Bessie Head, Brenda Fassié, Ruth First, Claudia Jones, Ingrid Jonker, Helen Joseph, Miriam Makeba, Una Marson, Fatima Meer, Shamim Meer, Sanna Naidoo, Lilian Ngoyi, Colette Omogbai, Dolly Rathebe, Lala Rukh, Olive Schreiner, Sherene Seedat, Afrah Shafiq, Bisi Silva; Helen Suzman, Yvonne Vera, Cornelia Vismann, women bus boycotters, and many more.
in Africa South (1956-1961), Fighting Talk (1950-1963), New Age (1954-1963), The New African (1962-1969), SPEAK (1982-1994), Staffrider (1978-1996) and in Transition (1961-1978 / 1991-).
Production: loitering in the material, wandering in texts and pictures. Taking pictures. Reading. Moving along lines, between lines. Reading quietly; reading out loud; to oneself or to a sound recorder; make mute phrases, meanings, rhythms, intonations, accents, findings audible; reading to a soundtrack of a visual display, a collage, browsing through a book, a magazine, pages, images, photos, drawings, postcards, compositions etc. Working with the image and sound at the junction of two timelines, the present and the past, the present and the absent. Addressing the gap between image and sound, the construction of their relation. Reading for someone who finds it impossible to read aloud. Writing. Translating, transcribing, republishing via a transition into a visual/audible track, a piece of film or video, a piece of animation or a display of matters, a song, a composition, a collage, a beat … 
Presentation: next to an online variety of displays of pre-produced and live streamed contributions (available for a world-wide audience), it is important for the project's unfolding to keep activities related to local places and a local audience; performative formats can happen before (pre-produced) and live (for example lectures, conversations and readings) during the festival in places such as a (open or closed) bookshop or shop front, the entrance of a library, a square or park on the university or school campus, at a distance, on a balcony, roof top etc. and will become part of the festival's programme.
For the time of the project (and further on), the library of Goethe Institute in Johannesburg provides online access to books and magazines of digital copies. 
Furthermore, a new Inflight Magazine (#5) is in the making and will launched during the festival. 
Team: Memory Biwa, Garnette Cadogan, Jihan El-Tahri, Kodwo Eshun, Thulile Gamedze, Asher Gamedze & Angel Bat Dawid, Natasha Ginwala, Lungiswa Gqunta, Stacy Hardy, Rangoato Hlasane, Isabel Hofmeyr, Aryan Kaganof, Gladys Kalichini, Katia Kameli, Sehr Jalil, Confidence Joseph, Premesh Lalu, Pascale Lamche, Franck Leibovici, Rob Machiri, Antonia Majaca, Louise Mutabazi, Zen Marie, Shamim Meer, Neo Muyanga, Mapule Mohulatsi, Tinashe Mushakavanhu, Thenjiwe Niki Nkosi, Sarah Nuttall, Iheany Onwuegbucha, Odun Orimolade, Naadira Patel, Sue Rabkin, Ruth Sachs, Angalika Sagar, Afrah Shafik, Pamela Phatismo Sunstrum, Michael Vazquez, Christopher Wessels, Makhosazana Xaba, Dagmawi Yimer among others.
Curated by Annett Busch and Marie-Hélène Gutberlet,
produced in collaboration with Goethe Institut Johannesburg.