# 1 FILTER, EDITING, # 2 SEARCH, RESEARCH, # 3 IN CONVERSATION, # 4 STOPOVER, # 5 LINES OF CONSENT, # 6 THERE ARE THINGS THAT LAW DOESN'T COVER

A series of Inflight Magazines travel along the route of the unfolding international project. Experimenting with the format, each issue becomes a light container for research-in-progress; at times a flying museum built upon each iteration of the project and connecting to the next. Download and pdf distribution below and via library stack. Paper copies can be found and read in the following libraries: Goethe-Institut Johannesburg, 119 Jan Smuts Ave, Parkwood 2193 // Goethe-Institut Kigali, 13, Avenue Paul VI/KN 27 Street Kiyovu // Iriba Centre for Multimedia Heritage, 9 KN 78 St, Kigali // Hochschule für Gestaltung Offenbach am Main, Schlossstraße 31, 63065 Offenbach/M // Deutsche Nationalbibliothek, Frankfurt/Main, Adickesallee 1 // The Showroom, 63 Penfold Street, London NW8 8PQ // And can be bought in the following book shops: Hobscotch Reading Room, Kurfürstenstraße 14/Haus B, 10785 Berlin // pro qm, Almstadtstr. 48, 10119 Berlin
...... an understanding of law, derived from twelve-tone music. To treat every element as equally important, which also fosters a shift in hierarchies of attention and narrative. A discordant methodology, the better to create new parameters and premises of storytelling.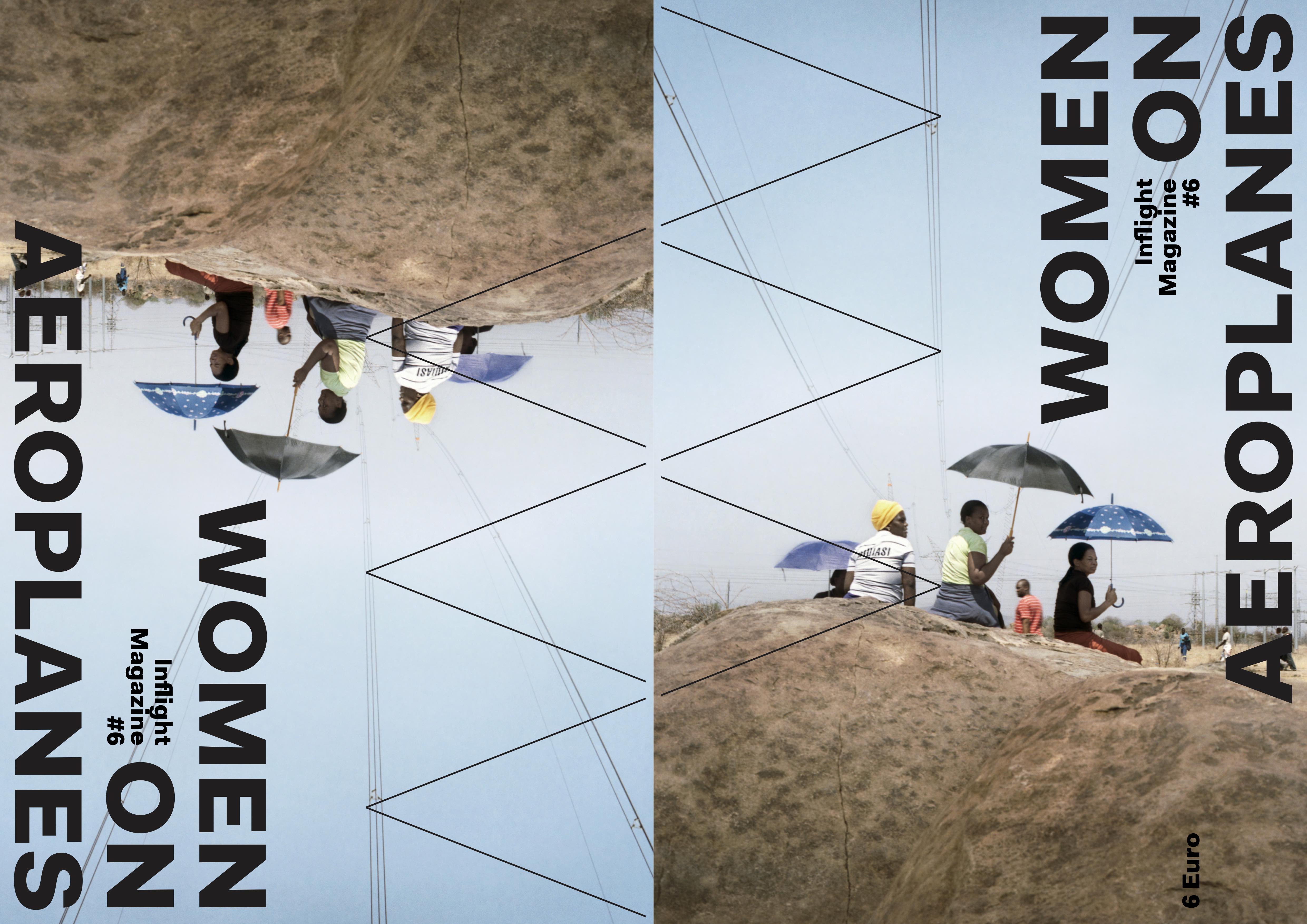 Contributions by Pascale Lamche, Jihan El-Tahri, Kodwo Eshun, Sue Rabkin, Naadira Patel
..................... a moving layover becomes a line of dots, not only line-shaped clouds, it could even transform into a score, with a set of different notations, for women-informed afterlives of the revolutions to come.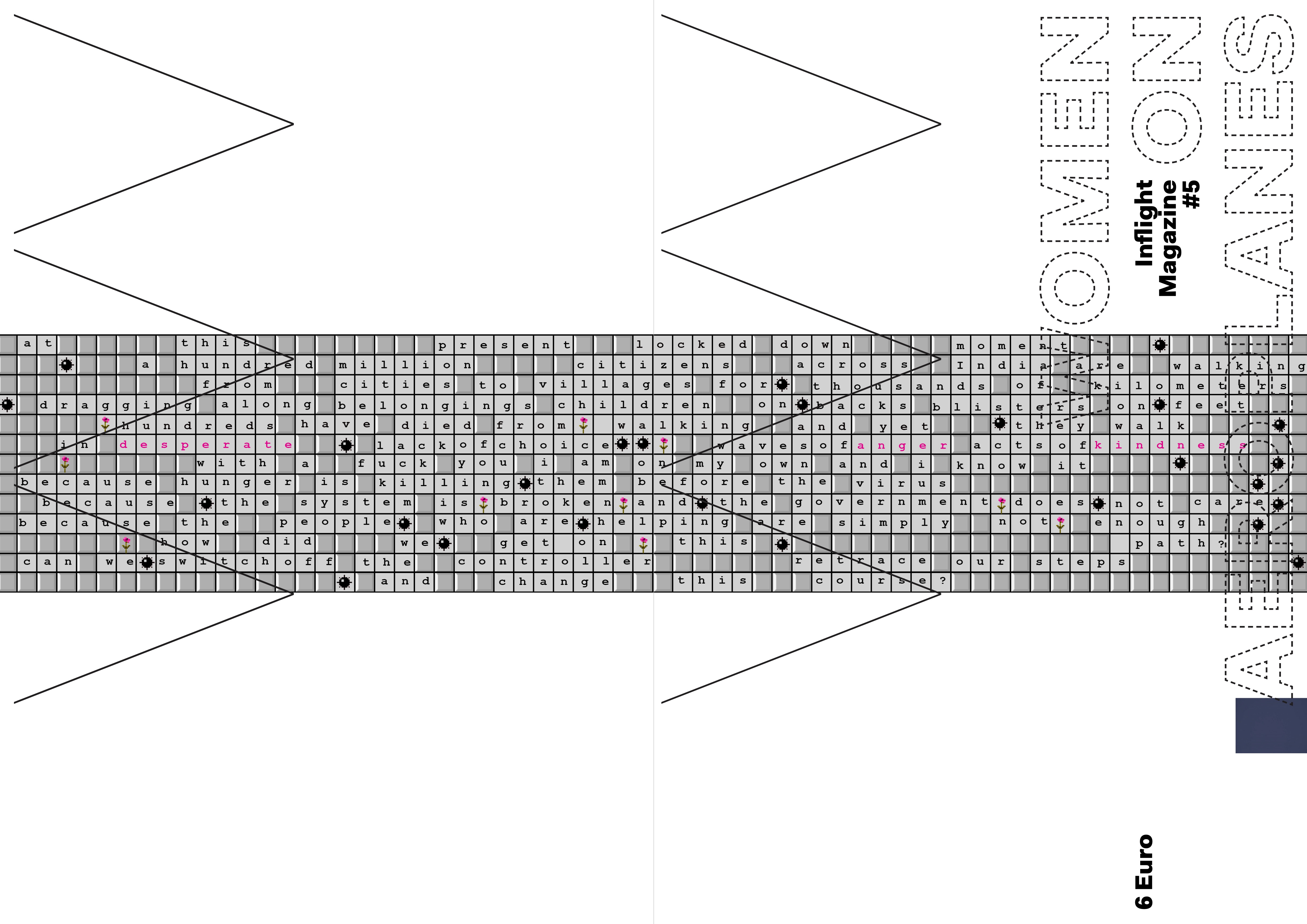 Contributions by Ayesha Jatoi, Kodwo Eshun, Temitayo Ogunbiyi, Natasha Ginwala, Afrah Shafiq, Ruth First, Marwa Arsanios, Etel Adnan, Katia Kameli, Sarah Maldoror, Sehr Jalil, Antonia Majaca, Jihan El-Tahri, Stacy Hardy.
The idea of making use of spaces, transforming existing ones, creating new ones, making a living and a change, very much carries through the pages of Inflight Magazine #4. The importance to have, maintain, and organise places, frameworks, and opportunities that allow a continuity to negotiate and fight over common grounds. Making spaces vibratory.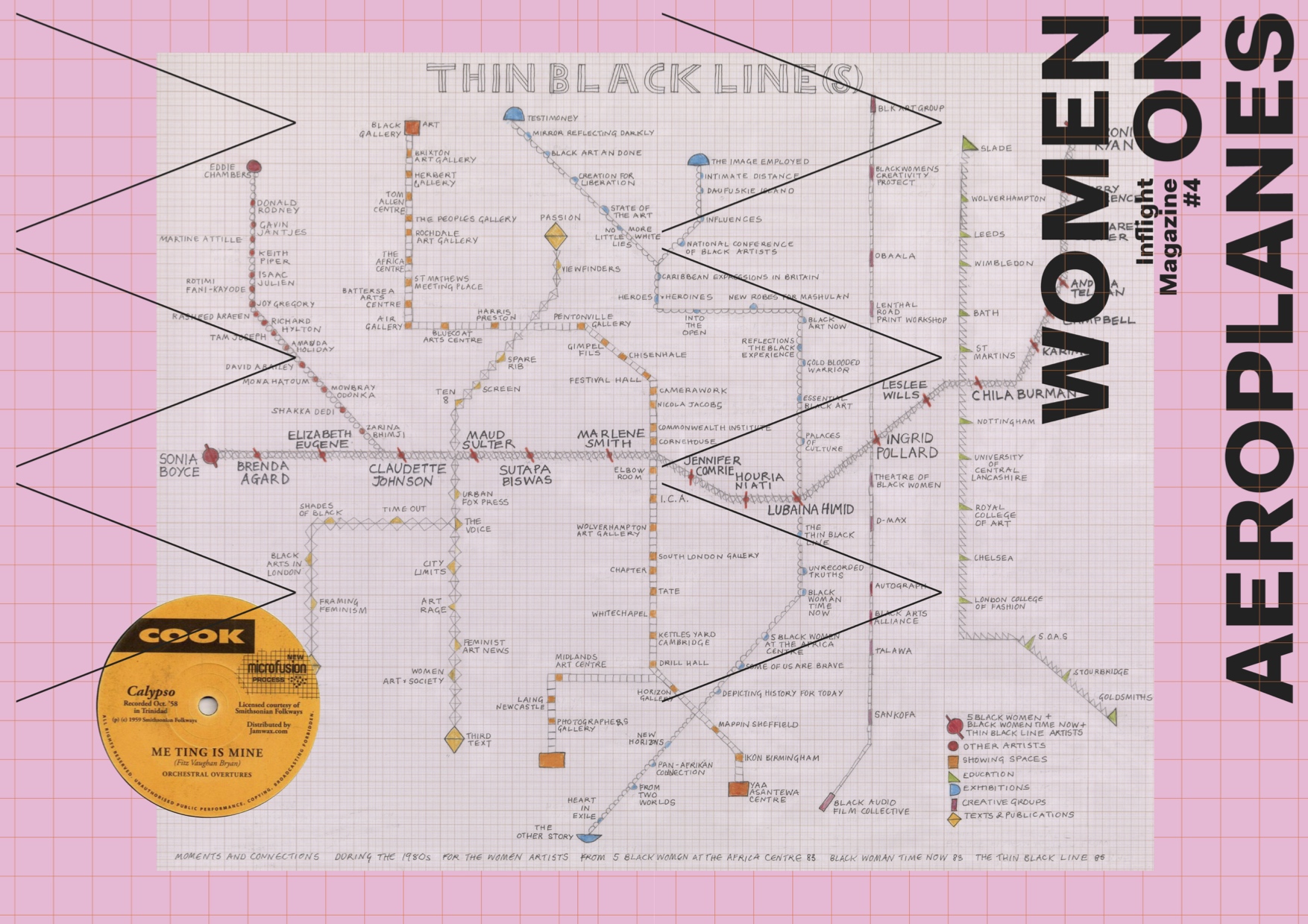 Contributions by Theresa Kampmeier, Bisi Silva, Temitayo Ogunbiyi, Marika Sherwood, Emma Wolukau-Wanambwa, Garnette Cadogan, Lubaina Himid, Elvira Dyangani Ose
My life is a collage, with time cutting and arranging the materials and laying them down, overlapping and contrasting, sometimes with the fresh shock of a surrealist painting, wrote Eileen Agar, photographer and painter, associated with the Surrealist movement who, like Colette Omogbai, attended the Slade School of Fine Art—almost exactly 40 years earlier, between 1925 and 1926. The repetition of a certain phrasing in connection with Colette Omogbai, a pioneering Nigerian painter, "who identified as a Surrealist," sent us looking into histories of surrealisms. The plural here is important, because there are indeed many invocations and occupations of the surrealist movement, into various geographies, subject to (mis-)interpretation. Here, trying to arrange encounters between people, dates, poems, moods, ambitions, images—that never met, but maybe did— became a sort of spiral of conversations amid cracks, breaches, and intervals, interstices and discontinuities, allowing the in-between to vibrate in negotiations.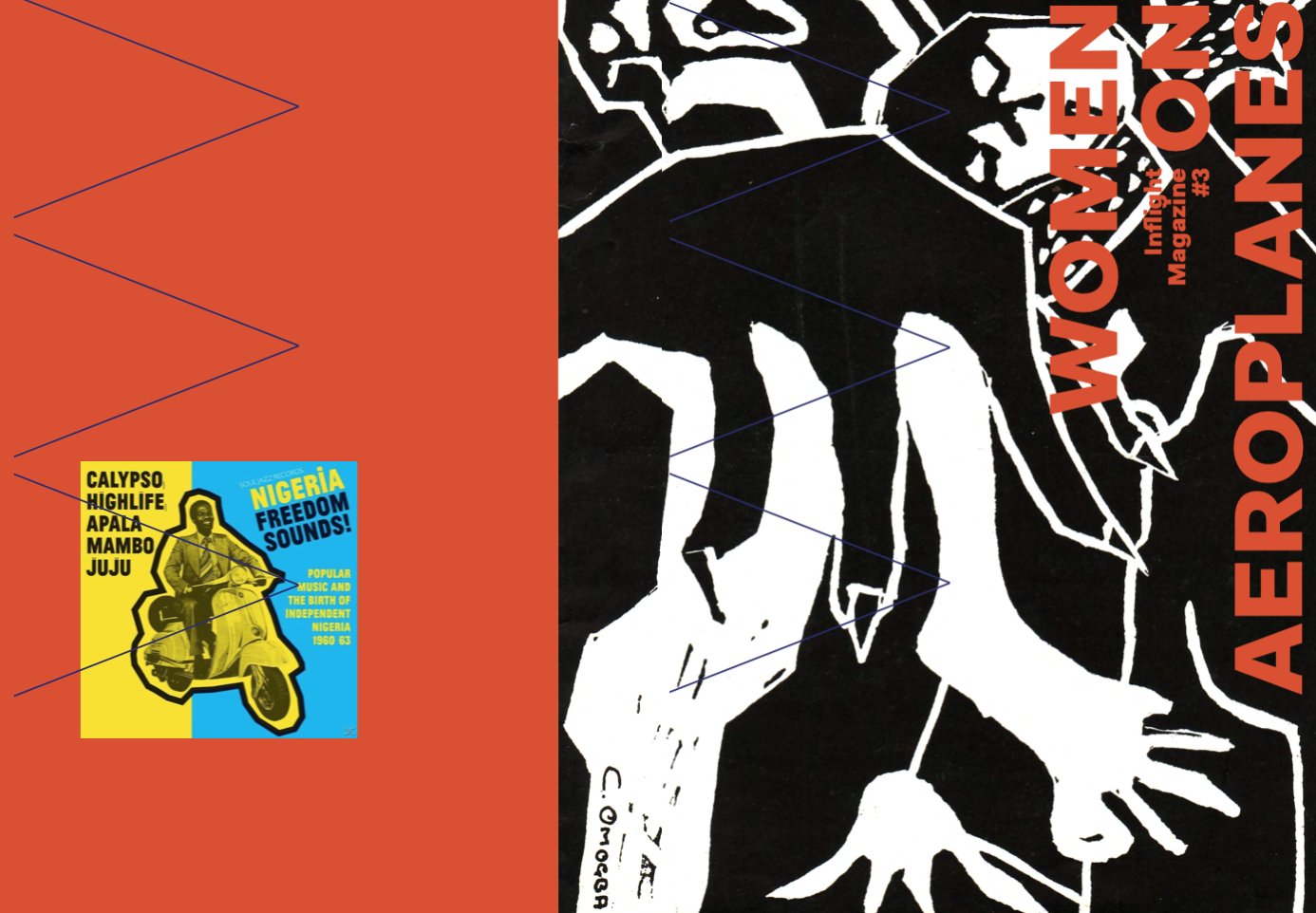 Contributions by Colette Omogbai, Nadine Siegert, Iheanyi Onwuegbucha, Michael C. Vazquez, Odun Orimolade, Thenjiwe Niki Nkosi, Gladys Melina Kalichini, Rahima Gambo, Lungiswa Gqunta, Thenjiwe Niki Nkosi, Emily Pethick, Bisi Silva
Looking for ... someone, something is about setting in motion oneself or others, a machine, a place, ideas, doubts, papers. Often we don't know why we keep looking. Sometimes there is a decision to take it seriously, to keep in touch, to commit, to get involved. Decisions can acquire momentum. Looking for might lead to research—a search that keeps us attached and that changes the attention's direction and meaning: to look at something again and again and again until we begin to see. 
The decision to look for Colette Omogbai, a promising artist from the 1960s who vanished from the art scenery soon after, brought us to Lagos.... .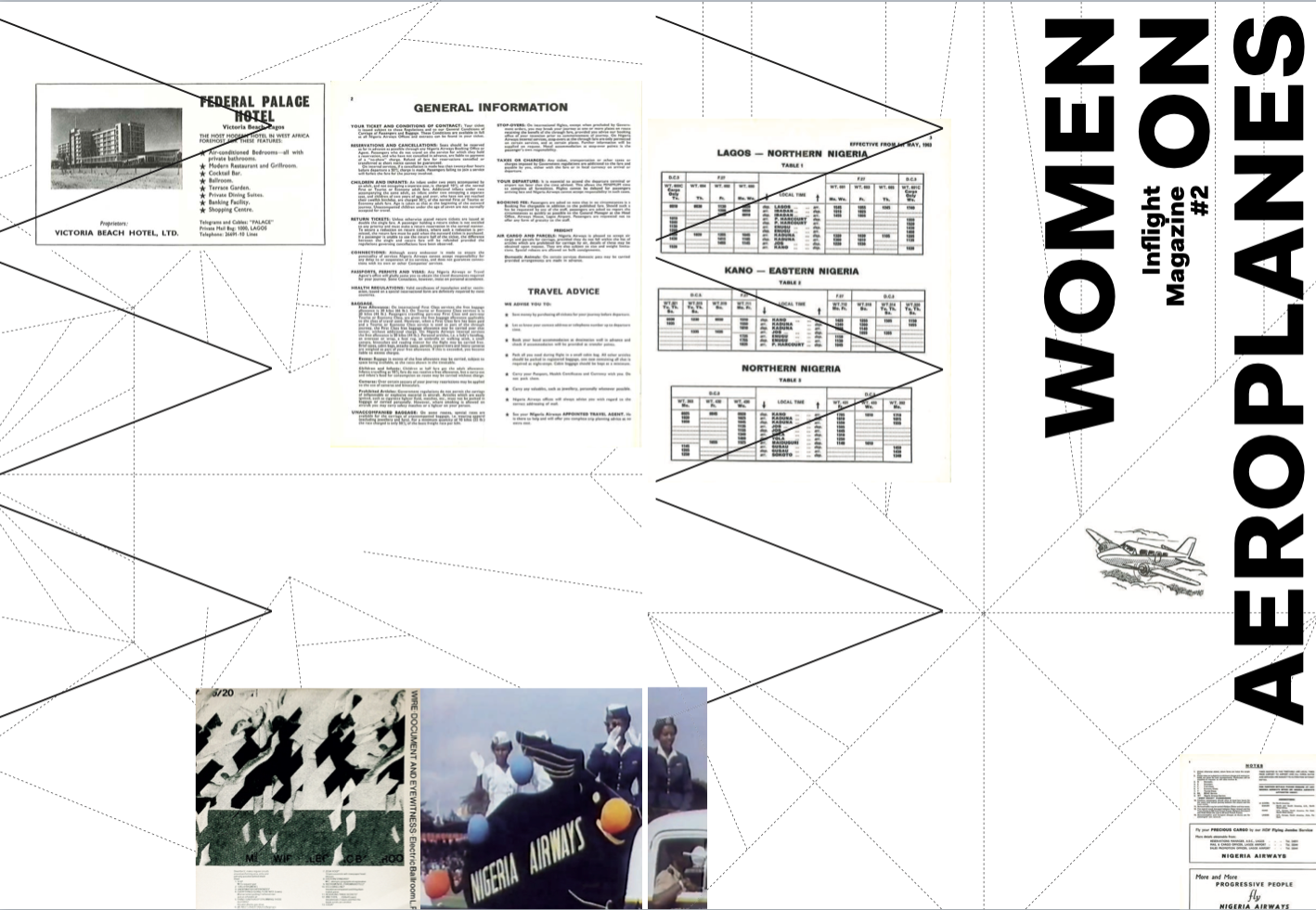 Contributions by Odun Orimolade, Ndidi Dike, Temitayo Ogunbiyi, Seloua Luste Boulbina, Gladys Melina Kalichini, Lungiswa Gqunta, Jihan El-Tahri, Fatoumata Diabaté, Michael C. Vazquez, Garnette Cadogan
Coming to a decision includes a process of making something visible and something else invisible, what is of course not only an aesthetical but mainly a political choice in terms of storytelling. Even though a person, a gesture, a matter, a landscape is present in the picture, we might not see it, and whatever remains invisible, we can still have an image or an idea in mind of what is missing. What we are able to see is not least a question of knowledge. The ambitious endeavour to change the grammar of a dominant narrative requires an entire reboot of a (mediated) perception we are all too much used to. We need to edit against the grain having a paradox in mind.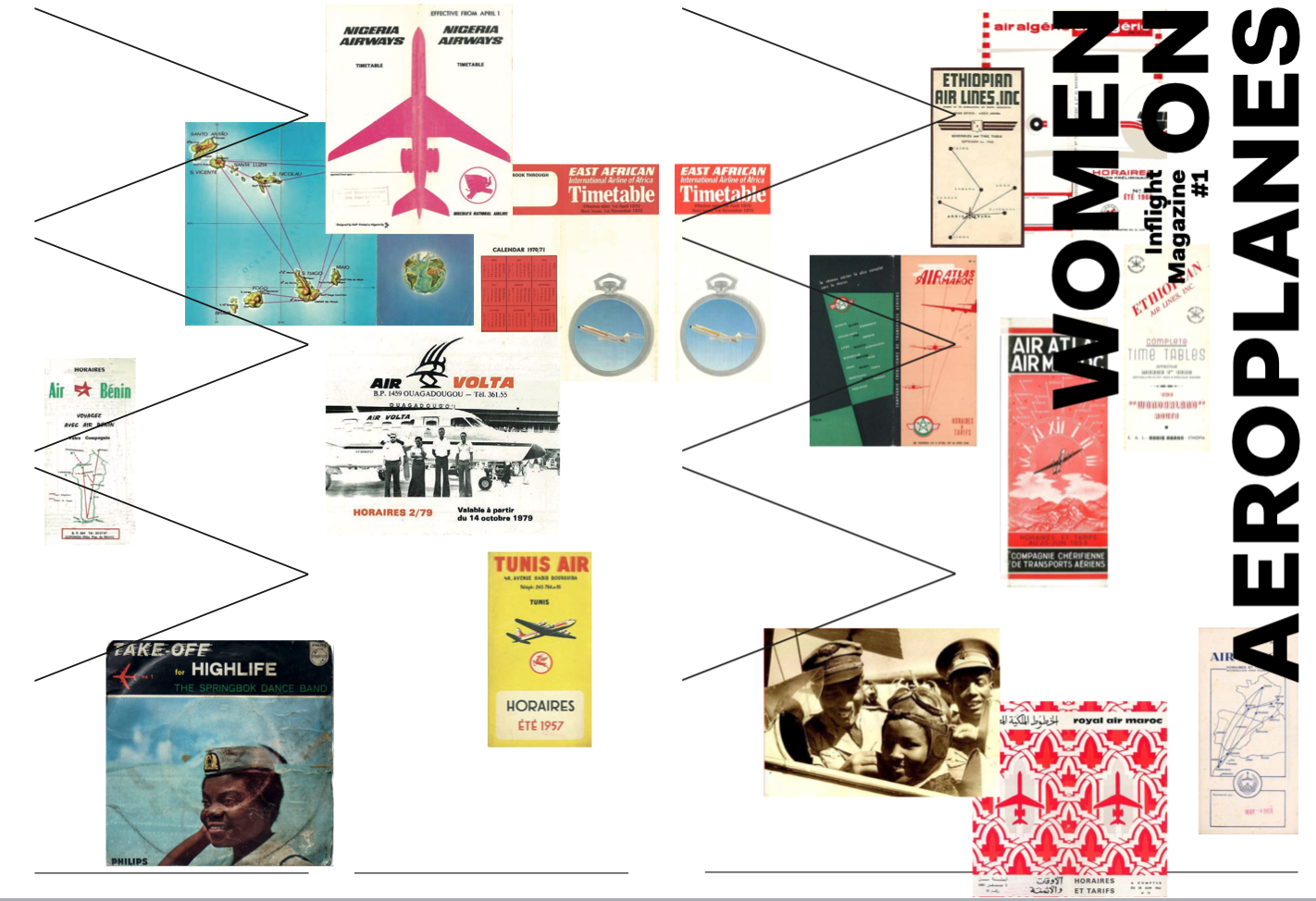 Contributions by Marie-Hélène Gutberlet,  Brigitta Kuster, Jihan El-Tahri,  Kodwo Eshun, Maryam Kazeem, Rahima Gambo, Emma Wolukau-Wanambwa