Transversal Evening Classes
​untranslatables​ |  sheep methodology  |  synchro system  | slow education | entrepreneurs

mid air ​describes overarching research themes, interlacing threads to be further developed collectively

on site ​classes have a local starting point of reflection, their own timing and visibility, but in correlation with classes in other places. 
on site ​
"For me, the cinema is the best evening school. It not only enables me to do more and to go further than literature, but it also lets people speak in their own language—Wolof in this case. [...] We are doing something here that goes beyond our imagination." (Ousmane Sembène, 1973)
This year's theme programme at the International Short Film Festival Oberhausen Synchronize!  Pan-African Film Networks (05 - 08 May 2022) is curated by WOA, with many guests involved: Jean-Pierre Bekolo, Mohamed Challouf, Abdessamad El Montassir, Jihan El-Tahri, the Mouatheqat collective (Rim Harrabi, Rua Osmane, Salimata Bâ, Yosra El-Gazzar and Lina Alabed), Katia Kameli, Fatou Kandé Senghor, Amelia Umuhire among others.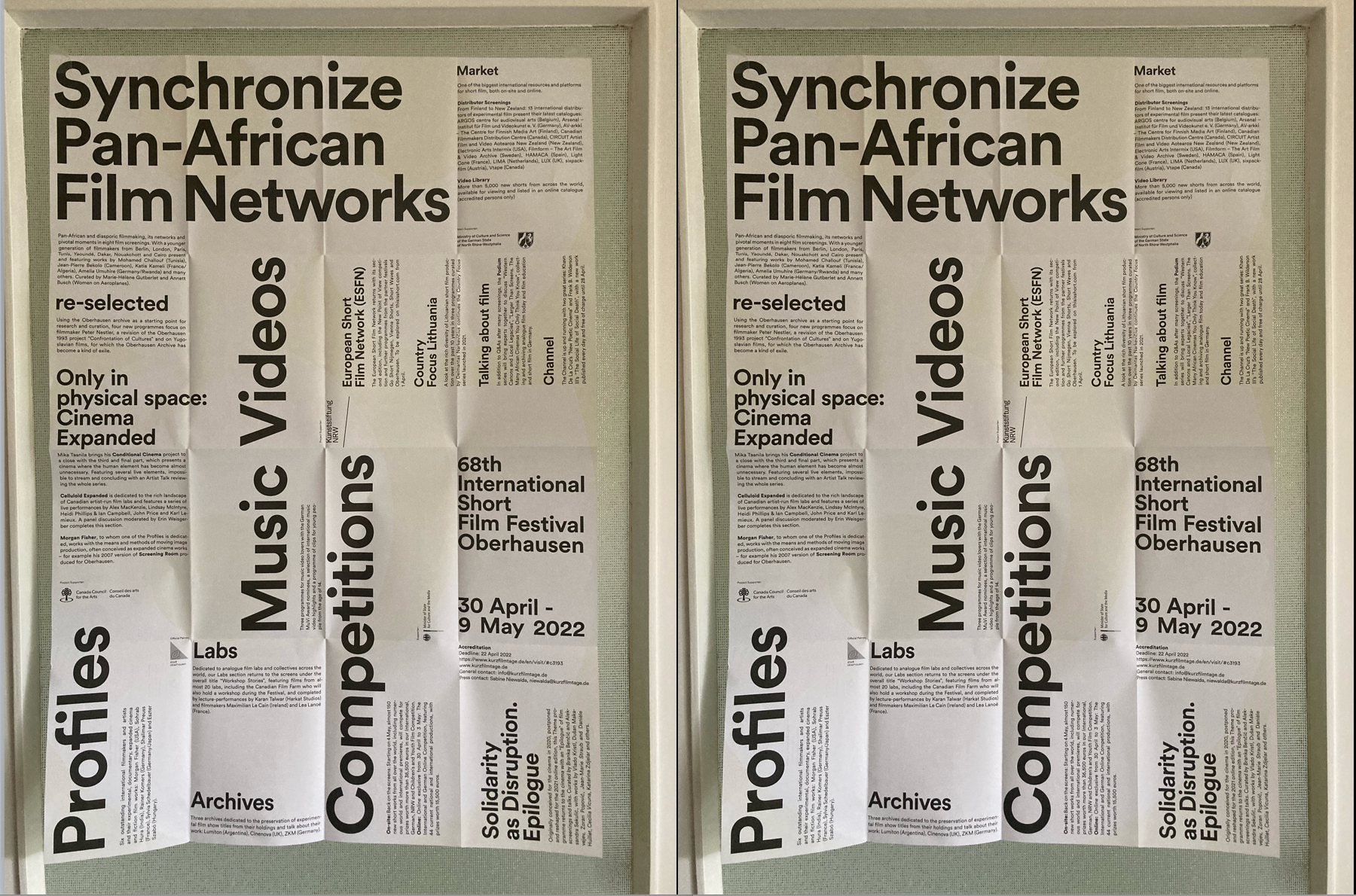 In most parts of the world, cinema is based on networks; that goes for the production and distribution of films as well as for the organisation of festivals, workshops, screenings or other platforms. This is all the more true of African/diasporic cinema, which, since its beginnings in the 1960s, has been a domain where filmmakers have over decades developed innovative infrastructures, formed polycentric pan-African networks, and invented new, flexible working models. What was long considered unstable and incompatible with the market is increasingly turning out to be a pioneering working model when it comes to future strategies of cinema as a whole.
Kigali: Dutarame-Buhanga​
Invitation to evenings dedicated to sharing knowledge with Assumpta Mugiraneza, IRIBA center, in collaboration with Goethe-Institut Kigali (November 29 - December 03)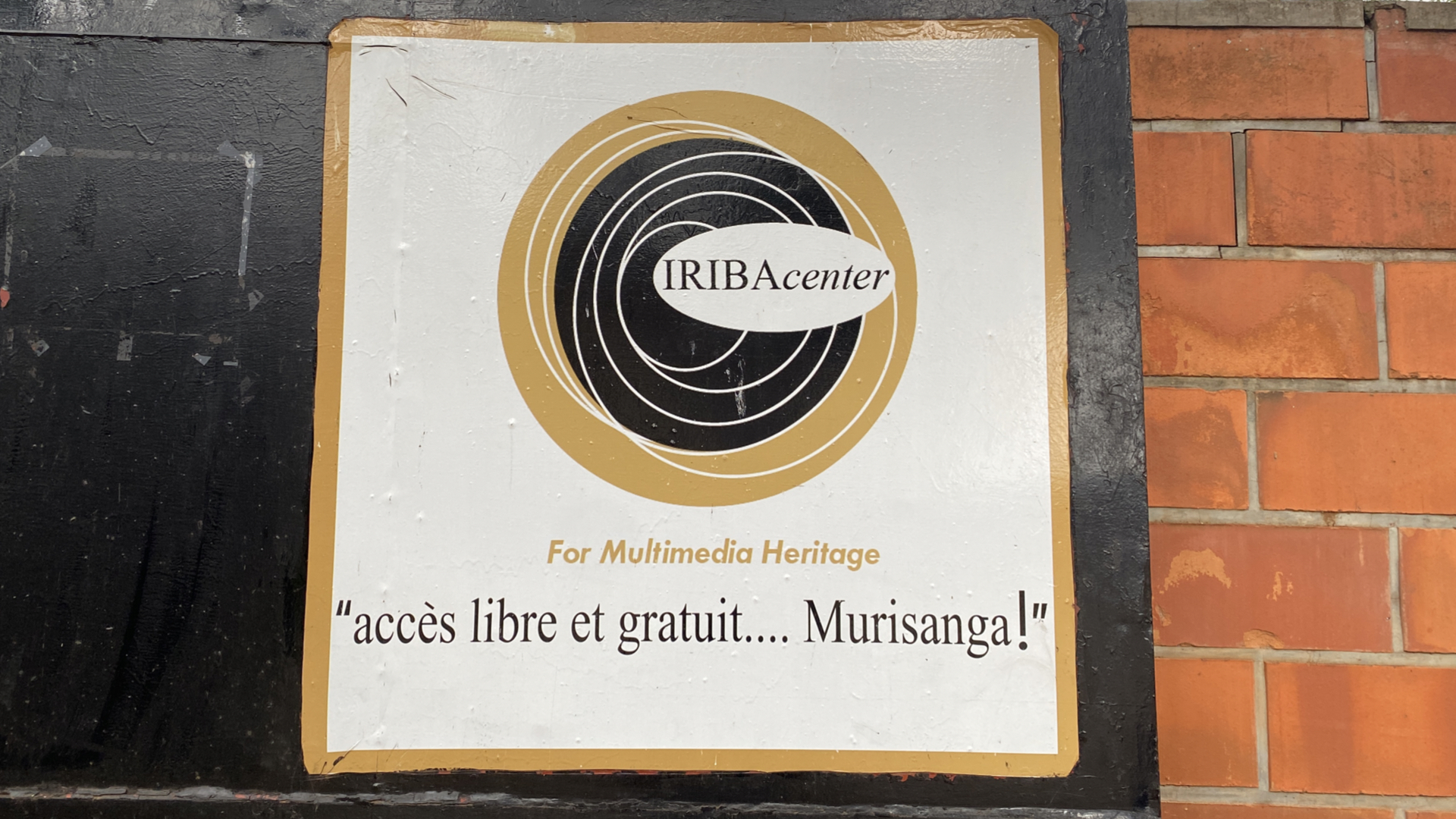 Gusiga, Gusiga... n'Inshoberamahanga. Gusiga, the aim to grasp the content of the previous, Inshoberamahanga — what makes you lose the meaning. A three-days laboratory orbiting around matters of languages and variations in translation. Getting estranged from ones own language, transposed into the abundant universe of the untranslatables—memoir, voice, image, future, sounds, experiences, silences etc.—words might get lost on the way, others will appear or might transform. The language in which we can communicate and develop common understandings has to be invented and reinvented over and over again.
Dutarame-Buhanga, as ​a series of evening classes, will develop around questions, elements, perspectives on the untranslatable​—memoir, voice, image, future, sounds, experiences, silences etc. in order to become a space of coexistence, a theatre play, a dictionary, a library, a song, a writing session. 
The fact of constantly being  in translation/in transition  between Kinyarwanda, French, English, Swahili, the experience of being in and out of Rwanda, immediately leads to questions of knowledge and power, to history and memory, to different practices of speaking, positions, situations, experiences, necessities.
The evening classes will be shaped in collaboration with Stacy Hardy, among other guests. The events will be hosted by IRIBA Center and will be admission free. They are supported by Goethe Institute Kigali and EU-DARIAH.
Trondheim: Slow Education Vol 2
Toward a Third —Traces of a Manifesto
Understanding the conditions of artistic production, circulation and viewing habits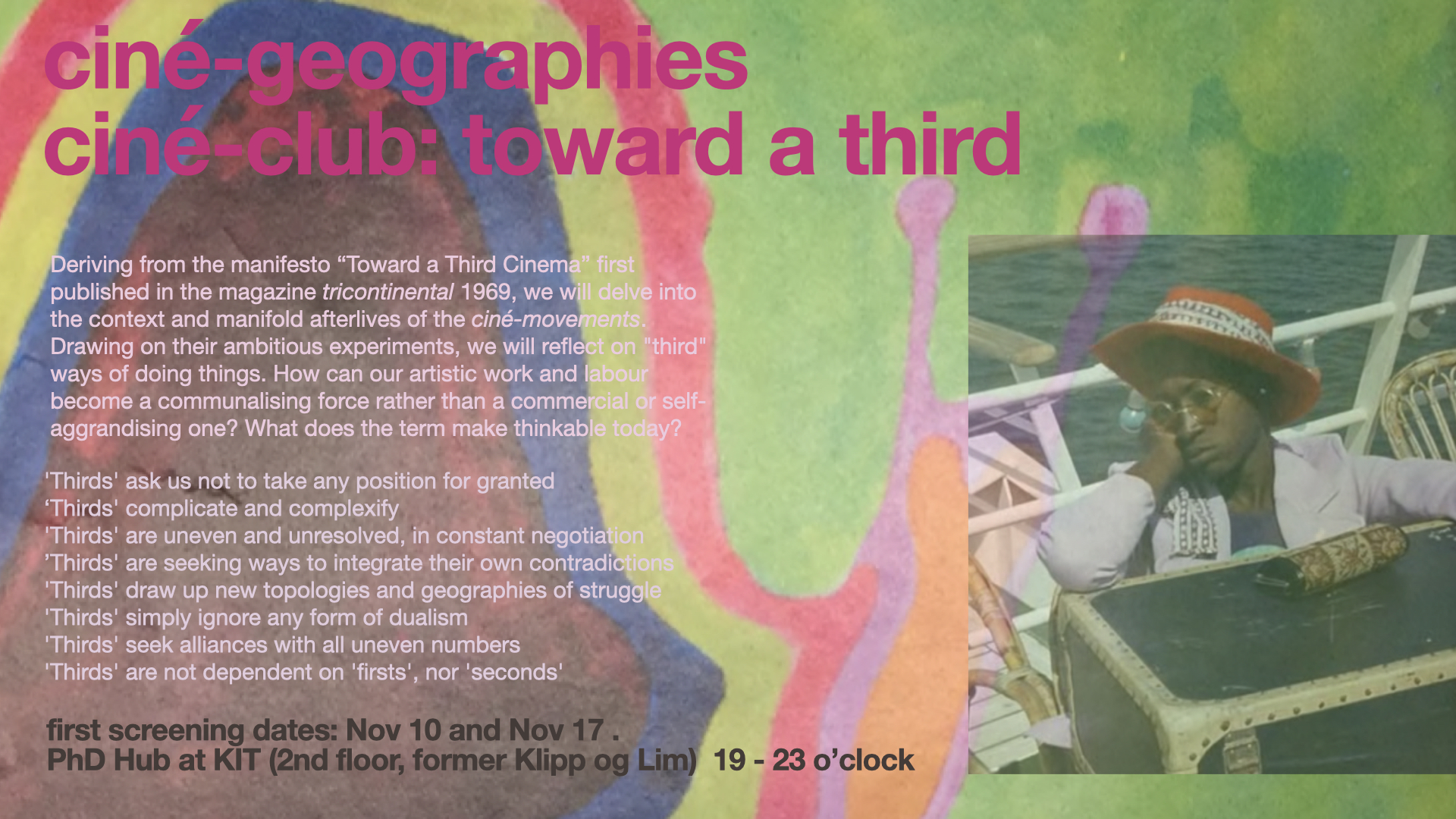 Thirds' ask us not to take any position for granted. Thirds' complicate and complexify. Thirds' are uneven and unresolved, in constant negotiation. Thirds' bring about movement and change. Thirds' work with paradoxes and find ways to integrate their own contradictions. Thirds' draw up new topologies and geographies of struggle. Thirds' simply ignore any form of dualism. Thirds' seek alliances with all uneven numbers. Thirds' are not dependent on 'firsts', nor 'seconds'. 
If we use the term "the third" not as a compromise but as a tool to make critical distinctions, the concept with its radical history can be helpful to develop a political stance, a positioning in relation to (our own) artistic production. Continuing from the ambitious experiments of the Third Cinema movement, we want to reflect on 'third' ways of doing things. How can our artistic work and labour become a communalising force rather than a commercial or self-aggrandising one? And what does the term help to make thinkable today?
[Hosted and assembled by Annett Busch & Joen Vedel, supported by KIT/NTNU and EU-DARIAH]
Rådhussalen  September 29 2021 — January 12 2022
How do we learn, engage and communicate through and with music? How does it shape our views, attitudes and ways of thinking? Tuning in for Volume 1: Lisa Størseth Petterson, Chicks on Speed & Unnur Andrea, Oscar Debs, Martinus Suijkerbuijk, Martin Palmer, Kyrre Laastad, Nabil Ahmed.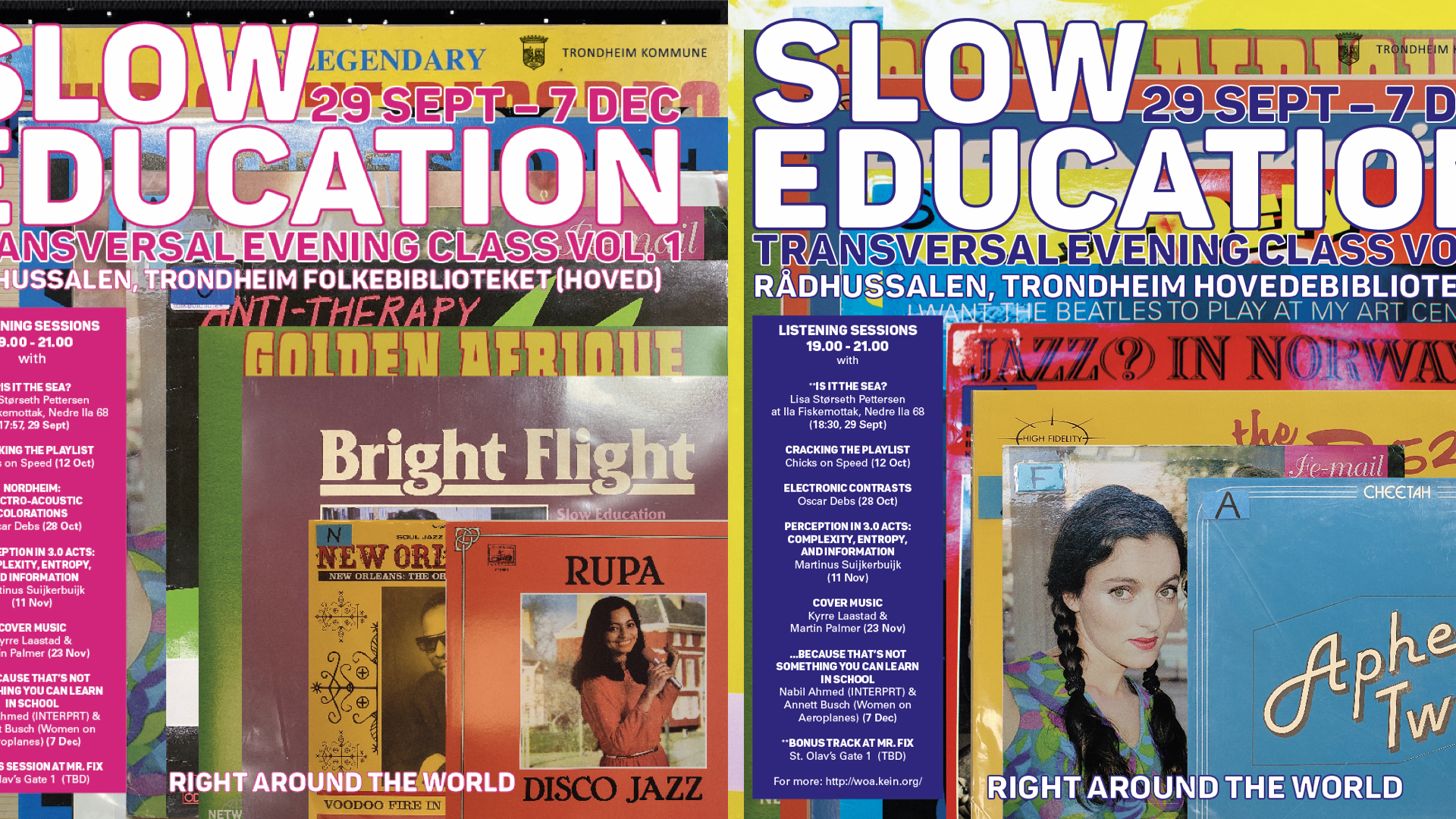 Slow Education offers a series of public listening sessions, which will be led by researchers, musicians, enthusiasts, and artists who will narrate with and through music. The Trondheim folkebibliotek's truly international vinyl selection will serve as a starting point to invite, present and share an array of listening habits and tastes, to unravel polyphonous narratives of and through popular and unpopular culture. Record labels and release dates will unfold entangled history lessons and single tracks might take us on long journeys, training and tuning our rusty auditory tracts.
[Hosted and curated by Annett Busch and Prerna Bishnoi, in collaboration with Stian Stakset/Trondheim folkebibliotek. Supported by KIT/NTNU, co-funded by Trondheim Kommune and EU-DARIAH.]
mid air: sheep methodologies
Sheep Machine​ is a meditation on the act of seeing. What do we see and how do we describe it? (Vi Khi Nao) —— I was learning to distrust language​, a distrust necessary for a writer, especially one writing ​in a foreign language.​ [...]. This may mean discarding grammar, throwing syntax out, subverting images from within, beating the drum and cymbals of rhythm...  (Dambudzo Marechera)
What can the strangely compelling figure of the ​Black Sheep​—at once attractive and disturbing, playful and subversive—do for our modelling of ​sustainable futures​? Perhaps it can prevent the premature foreclosure of the ​green imagination? ​Black sheep spoil the composition, crack the mirror—and in doing so, provide a necessary distance or breathing space that might allow one to reconsider one's own position. Encounters with black sheep remind us that things could be done otherwise, it shames and infuriates us for taking our place in the universe too seriously. Exploring and ​conceptualising with the black sheep might lead us to consider the literal and metaphorical qualities of its wool, to economy and craft, capitalisation of nature, models of ecological sustainability, radical knitting as forms of coding, weaving and the renewed consideration of aesthetics in patterns.
Black Sheep animate our shared histories in arts, music, science, ecology, figures like Marechera, Ayi Kwei Armah, Kojo Laing, Johnny Dyani, Charles Mingus, Amos Tutuola, Goody Leye, Taban Lo Liyong, Brenda Fassie, Ornette Coleman, Winnie Mandela, Antonin Artaud, Julius Eastman, Bessie Head, Henri Lefebvre, Ruth First etc. stand as iconoclasts, radical individuals outside of systems, but what if we take them collectively, as a movement, a flock, a community, a black sheep chorus—what counter-narrative emerges? Working from what Sarah Franklin calls ​"following sheep around", we seek out new radical entanglements and interwoven narratives towards a black sheep methodology, a library, a collective audio-visual novel...