International Short Film Festival Oberhausen: Synchro System
This year's theme at the International Short Film Festival in Oberhausen Synchronize! Pan-African Film Networks (05 - 08 May 2022) is played by WOA, in tune with King Sunny Adé's "synchro system". 
In 1983, the Nigerian musician and entrepreneur King Sunny Adé released an album with the title Syncro System. Its cover shows 18 musicians, each with a different instrument and a different move. Synchronizing by means of Synchro System does not mean lockstep but juju: sequences of movement are harmonised by a sound that drifts apart and converges in equal measure, opening up and coordinating an asynchronous-synchronous polyrhythmic universe.

[stills from Mohamed Challouf, Ouaga, capitale du cinéma africain, 2000,  and excerpt of the FESPACO catalogue 1989]
The Synchro System idea, as a kind of guideline for collaboration (and what can be learnt from it), as a boundary-crossing audiovisual system of references and as an impulse with a catalytic effect, was a method and starting point for selecting the programme. The way work is split up during any film production is probably somewhat reminiscent of this orchestral, big-band Synchro System: everyone participating on their own account but in the awareness of the work others are doing on the same project.
Flying with Greg Tate and his affection for King Sunny Adé: Are You Ready for Juju ?  (from the essay collection flyboy in the buttermilk,1992)
FILMPROGRAMME ON SITE: Oberhausen, 05-09 May 2022
The story of African film is the story of unmade, uncompleted and impossible projects. (Stacy Hardy)
How and when do systems of reference and production processes become visible? The Tunisian filmmaker and curator Mohamed Challouf has been looking into such questions for a long time; he makes films about networks, film politics, other filmmakers, those that have fallen into oblivion. In 2005 he founded the Rencontres Cinématographiques de Hergla; 20 years previously, in 1985, he was in Ouagadougou for the first time at the pan-African film festival FESPACO. It was during the first heyday of promising radical changes, at a time when FESPACO, 16 years after its founding, had long become the most important hub for African film. One year earlier, the country's young president, Thomas Sankara, had changed the name Upper Volta to Burkina Faso, the »Land of Incorruptible People«. He gave the festival, and, indeed, cinema and filmmaking, a special status as transversal mediators. Although Burkina Faso was perceived in Europe – if it was perceived at all – only in terms of poverty, it had already placed its faith in the future of cinema as being equally as important as ecology, land reform, emancipation, independence and education. Two years later, Sankara was to be murdered during a coup.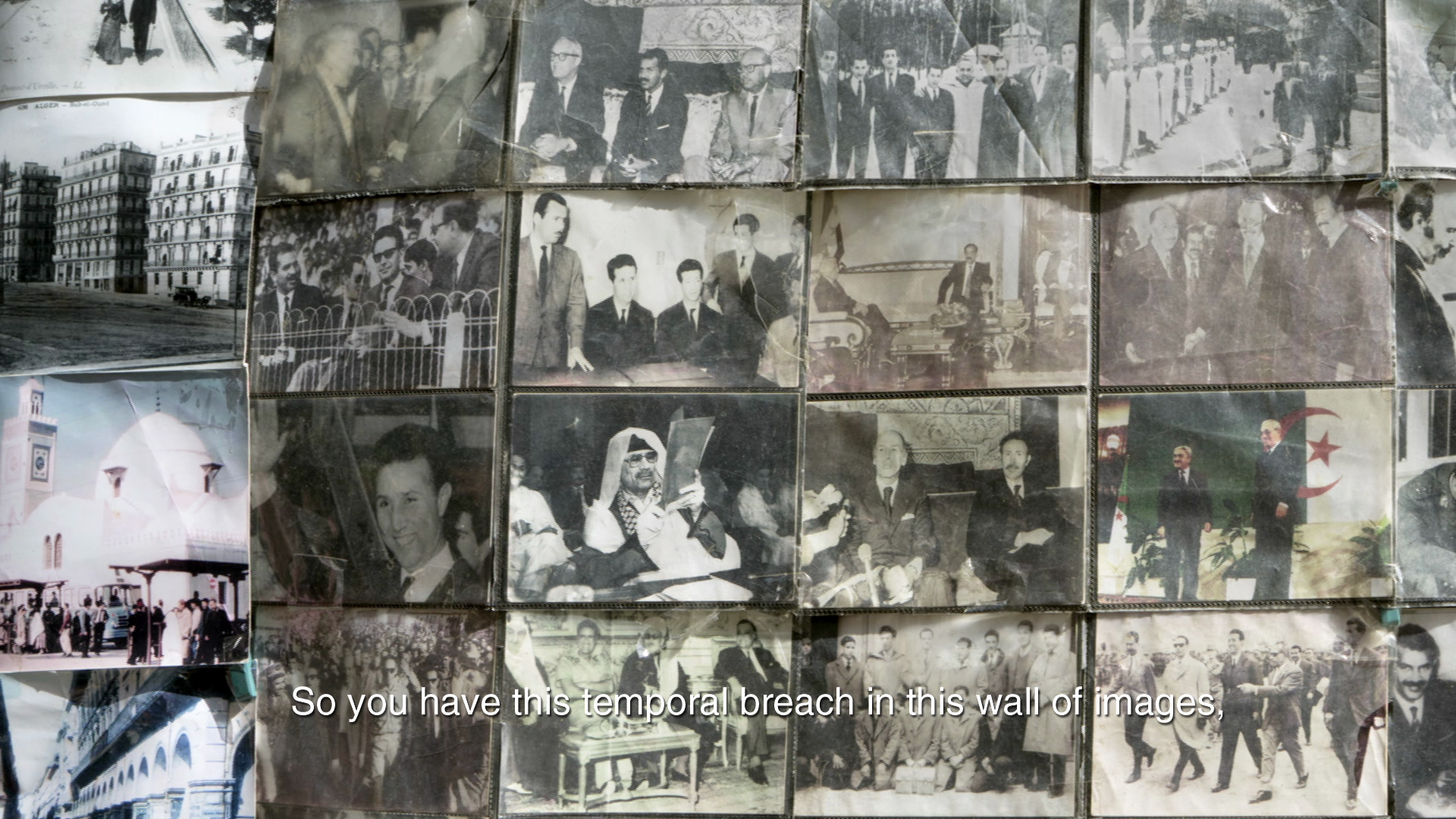 [Katia Kameli, The Algerian Novel, Chapter 1, 2016]
MAY 05, 12:30, GLORIA CINEMA: echos of beginnings 
Sediments, reverberations, records of asynchronous parallel events in different places, moments of upheaval, liberation, setbacks. History is questioned by the concerns of the present, volatile insights concretise in image, sound and rhythms, which in turn form levels that drift apart and cannot be synchronised. Only through narration, through interest, search, insistence and repetition do those loops emerge that make learning and understanding possible. Attempts to at least set the synapses in synch and oscillation through the cinematographic space.
The Algerian Novel, Chapter 1 (Katia Kameli, 2016, 15') is a video conceived as an immersion into Algeria's history, and collective memory. It takes place in Larbi Ben M'Hidi street, in Algiers, where Farouk Azzoug and his son own a nomad kiosk where they sell old postcards and reproductions of archival photographs.
The Dream Continues (Mouatheqat collective 2021, 59') starts in a small bookshop in the popular neighborhood of Bousalsela and unfolds as a circular journey exploring the necessity to revisit the past to understand the present by tracing intergenerational aspirations from Tunisia's 1968 student uprising to the political overturn in the summer of 2021.
Jihan El-Tahri, the current director of DOX BOX, is picking up where Mohamed Challouf's film stops. Her persistent interrogation of history as source code for the present, her refusal to recognise categorisations and boundaries – Sub-Saharan Africa? – and her phenomenal attention and efficiency while researching – all the things that drive her documentaries – now provide the basis for a nomadically transnational education programme that she developed in the past years. At the start of 2022, the pilot generation of the Mouatheqat Collective, Rim Harrabi, Rua Osmane, Salimata Bâ, Yosra El-Gazzar and Lina Alabed finished their first two films (The Dream Continues und Do Flowers Bloom After The Spring?) after a year of training. They were made in a Tunisia that is in a state of upheaval ten years after its revolution broke out, triggering the Arab Spring.

[The Dream Continues, Mouatheqat collective 2021]
MAY 05, 17:00, GLORIA CINEMA: synchro system
The notion of system as well as that of synchronisation should be read slightly ironically with King Sunny Adé in the ear. It's about in tune moments, about opportunities to tune into one another. About festival venues as nodes where individual films are transformed into a network of relationships, because only in juxtaposition and condensation do imaginary or real references emerge. Also because in the debate, in the conversation, in the shared experience of looking at the same screen, further synch levels emerge. 
La Grammaire de Grand Mère (Jean-Pierre Bekolo, 1996, 8') the great Senegalese filmmaker Djibril Diop Mambéty is recalling his first experiences of cinema and explains: "It's a grandmother who knows how to tell stories... but grandmother herself allows to be betrayed... Grandmother wants us to start the story again each time in a different way." (JP Bekolo)
Ouaga, capitale du cinéma africain (Mohamed Challouf, 2000, 60') FESPACO in Ouagadougou (Burkina Faso), one of the most important Pan-African film festivals in the world, was the scene of an exciting cinema utopia. With the support of the young president Thomas Sankara (1983-87), the festival became a symbol of the cultural renaissance of a whole continent.

[Ouaga, capitale du cinéma africain, Mohamed Challouf, 2000.]
In Tunisia – as in Egypt or Morocco – the question of orientation is always an eminently political decision because, in these countries in particular, the suggestion is that there is a choice: to see oneself as part of the African continent or to look for confirmation in Europe. The direction of view changes everything to do with attitude and self-image. Mohamed Challouf and Tahar Cheriaa, film critic and founder of the Journées cinématographiques de Carthage (1966), decided firmly in favour of taking their bearings from the south. With OUAGA, capitale du cinéma (2001) and TAHAR CHERIAA, à l'ombre du baobab (2014), Challouf succeeded in making two festival films from and about Carthage and Ouagadougou in which this perspective crystallises amid an overwhelming amount of material – the films are always about everything: image-making, music, culture, debate, location and discourse cannot be divided from one another.

[Tahar Cheriaâ à l'ombre du Baobab, Mohamed Challouf, 2014]
MAY 05, 22:15, LICHTBURG CINEMA: synchro system
Deux festivals à Grenoble (Ateyyat Al Abnoudy, 1974, 28') is constructed in the double movement of the festival: filming and showing. Her work as a director and editor enables Ateyyat Al Abnoudy to capture the festival in its diversity, to link everyday observations with the still timely discussions and statements of the professionals. (Peggy Zejgman-Lecarme)
Tahar Cheriaâ à l'ombre du Baobab (Mohamed Challouf, 2014, 70') With intimate insight, Challouf tells the story of Tahar Cheriaâ and his friendship with the pioneers of cinema in Africa such as Sembène Ousmane, Tawfik Salah, Timité Bassori, Moustapha Alassane and so many others who, in the aftermath of independence, deployed all their energy to create the first authentic images of post-colonial Africa.

[Tahar Cheriaâ à l'ombre du Baobab, Mohamed Challouf, 2014]
»Le regard se transforme«, the gaze itself is transformed, reflects a voice from off-screen at the start of the OUAGA film, while mopeds rush by in the dusty twilight. What is transformed here is the self-image and its acceptance. It is not about being the exception, having a special status, being lacking, but the celebration of diversity, abundance, without pressure to explain oneself, without always having to start again from scratch. All the grands auteurs, otherwise scattered around the world, make an appearance somewhere – on the stage, on the way to the cinema, at the pool, at the bar, holding forth: Gaston Kaboré, Idrissa Ouédraogo, Djibril Diop Mambéty, Med Hondo, Férid Boughedir, Abderrahmane Sissako, Ola Balogun, Henri Duparc and many more. Ousmane Sembène is involved everywhere as chef d'orchestre, while the public, the multitude, calls its own tune. This film history is also primarily male; Challouf sees that and counterpoints it. Alimata Salembéré, the rarely mentioned founding member of FESPACO, and the documentary filmmaker Ateyyat Al Abnoudy often put in an appearance, along with Fanta Nacro with her humorous frankness, and at the end there is not nostalgia, but education as a way of opening. The actors Naky Sy Savane and Aï Keïta, both in the profession since the 1970s, discuss the manifestations of independence with school pupils: conditions of production that are determined by the limited nature of European subsidies, the meaning of everyday African stories on television as recognisable self-images, the necessity for and absence of educational opportunities, etc.

[Tahar Cheriaâ à l'ombre du Baobab, Mohamed Challouf, 2014]
MAY 06, 14:45, GLORIA CINEMA: in the making 
Starting from different places and subjects, these three films address and interrogate the processes of production. The tailoring of military uniforms and how these in turn fabricate the public image of heads of state in Egypt; historical photographs from Algeria whose symbolism becomes porous through divergent readings; the production of a film, Ceddo, which in turn is itself about the fabrication of religion and its relationship to power. History as a mesh of layered aesthetics that often hides more than it shows.
 
L'envers du décors (Paulin Soumanou Vieyra, 16mm,  1981, 16') Vieyra provides the rare opportunity to watch Ousmane Sèmbene and his crew at work, filming Ceddo, rehearsing with the actors, but also in dialogue with editor Florence Eymon about decision-making processes during editing.
Anbar (Badrawi' atelier) (Jasmina Metwaly, 2019, 19') Which narrations are inscribed in the fabrics, the cut, the accessoires of a uniform? Metwaly is in conversation with an Egyptian tailor at work in his atelier who explains his longstanding know-how of "power-dressing." Badrawi' atelier is part of trilogy organised around three different characters.
The Algerian Novel, Chapter 2 (Katia Kameli,  2017, 34') In chapter 2 we return to the same images of chapter 1 through the informed gaze of two major contemporaries: the philosopher Marie-José Mondzain and the lawyer Wassyla Tamzali. Their analyses open up a space of negotiation from which history can regain momentum and complexity.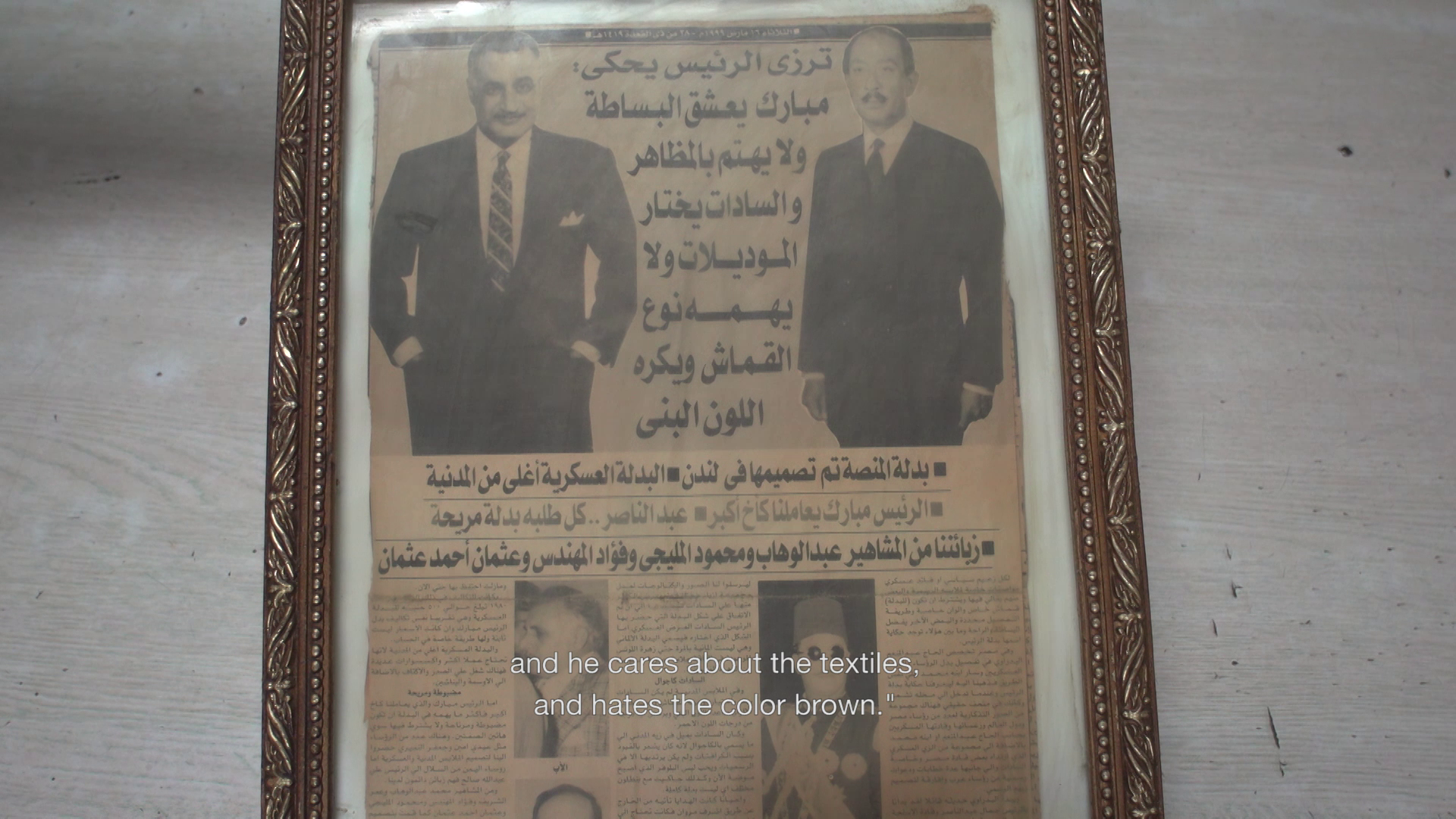 [filmstill, Anbar (Badrawi' atelier), Jasmina Metwaly, 2019]
The artist Jasmina Metwaly, who has been living in Berlin since the backlash in Egypt, proceeds by approaching the centre of power, and thus the fabrication of history, by way of peripheral places and supporting actors, such as the tailor who makes the military uniforms. Katia Kameli, for her part, circles about Algerian history starting out from a popular random generator, all through the prism of her in-between position both personally and geographically (Paris-Algiers). It is nothing more than a historical postcard kiosk set up in a busy street in Algiers, but she takes precisely the things that casually become visible as seriously as an atlas. 

"in the aftermath it's a handshake that could be seen as an abdication of all they had wanted, liberty, independence, emancipation for women ..."  [Marie-José Mondzain in The Algerian Novel, Chapter 2, Katia Kameli, 2018]

"One can't look at these images and not think of what is going on today and how in a way the situation which we are in today is contained in that handshake" [Wassyla Tamzali in The Algerian Novel, Chapter 2, Katia Kameli,  2017]
MAY 06, 21:45, GLORIA CINEMA: imaginaries
Images made in intermediary zones, at a geographical or temporal distance, may always be out of synch with the conditions they are trying to capture. They begin to flicker, become skewed, are completed by music, brought back, reinforced by insistent loops. But what if image as a concept is not present at all, but instead translates into a potentially collective figure of thought? And how can a film be realised in and about an image archive if the images themselves are not available?
 
A Third version of the imaginary  (Benjamin Tiven, 2012, 12') The film traces an encounter with a very particular archive: the video and film library of the Kenya Broadcasting Corporation in Nairobi, one of the first television stations in Africa [founded in 1928]. Our working assumption was that this library would house a vast visual history of East Africa. (Benjamin Tiven)
Concerto pour un exile (Désiré Ecaré, 1968, 30') takes place entirely in Paris among Africans, without any precise nationality, uprooted, generally students and always speaking French among themselves. Hervé, the bearded leftist, leads the student union without conviction, quotes Aimé Césaire, talks about the "rendez-vous de l'histoire", skips his law classes and is very idle. Doudou "hits on" French and Scandinavian girls, seduced by the African exoticism. Yao, the humblest, just arrived, sweeps the streets. They all meet up at night to sleep at Hervé's. They help each other, they subsist, they want to go back home. But what's the point? Even with a degree, you risk finding yourself unemployed. Désiré Ecaré has chosen to laugh rather than cry about it. (Louis Marcorelles, Le Monde, Sept 30, 1969)
Ali au pays des merveilles (Djouhra Abouda & Alain Bonnamy 1975, 56') What subject could be more troubling for an Algerian woman living in France than migration? From the beginning, Alain Bonnamy and I decided not to make a typical traditional reportage based on interviews. The discourse of migrant workers becomes stronger when we show them at work. I put a loop on the everyday gestures. (Djouhra Abouda)

[filmstill Concerto pour un exile, Désiré Ecaré, 1968]

[filmstill Ali au pays des merveilles (Djouhra Abouda & Alain Bonnamy 1975]
MAY 07, 12:30, GLORIA CINEMA: Serial Formats
If there is one constant in the relations between Africa and the West, it is that our wishes are never taken into account. (JP Bekolo) What is absent from the screen, what is excluded as history and everyday history, needs, in order to be effective and to reach as many people as possible, not a niche, not arthouse, but a popular medium and a genre like the TV series, or a web series distributed via a YouTube channel. 
 
Polyglot (Amelia Umuhire) : My Own (2015, 14'), Le mal du pays (2015, 10'), The Interview (2015, 5')  At the core of it, the simple idea was to make short films, and then these became a whole series, about a feeling that a lot of people might have and yet, on that is rarely depicted on screen. It's rare to encounter depictions of immigrants in a European context where they just get on with their lives. (Amelia Umuhire)
Walabok (Fatou Kandé Senghor, 2021, 1 Episode, 26') 18-year-old Mossane is the fourth child in seven of a modest family in the suburbs of Dakar. The mother runs a small shop to feed her family. Mossane is a brilliant and creative student and fan of Hip Hop and dance. She has to hide her passion to her mother who does not consider an artistic career to be a successful outcome.
Nous Les Noirs (clips)  (Jean-Pierre Bekolo, 2021) What happens when a filmmaker from Cameroun journeys to Colombia to explore the entanglements of Africa and Latin America? Who is the self, who is the other? A fake ethnology film on Africolombians.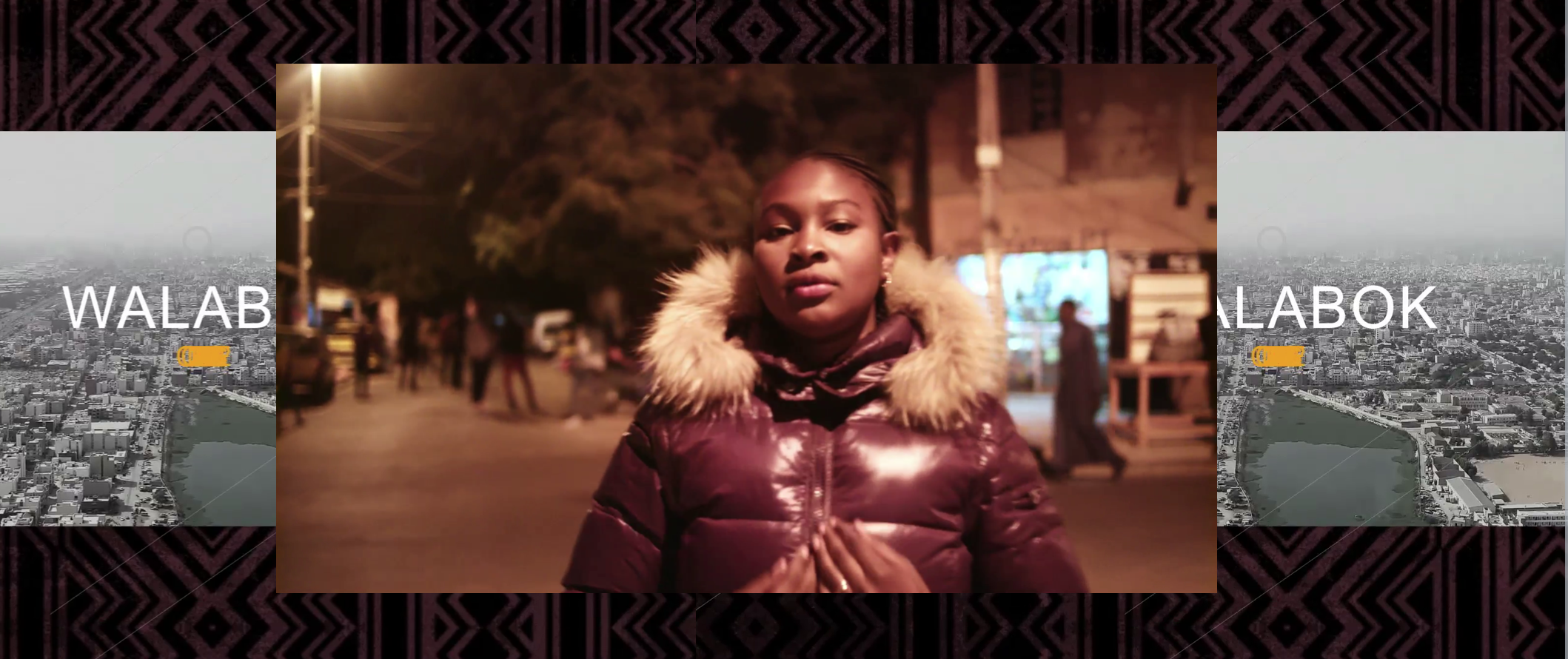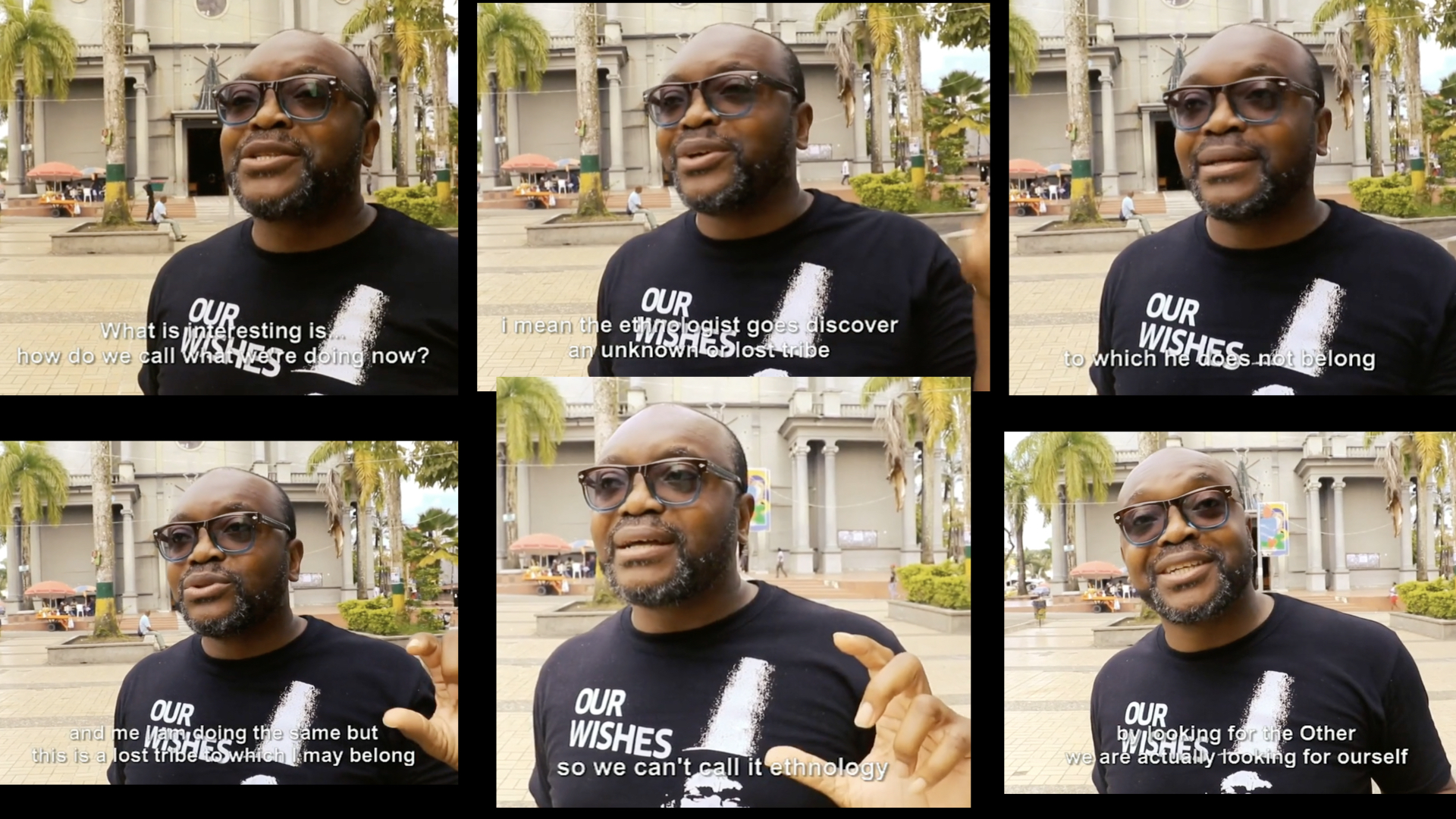 [filmstills Nous le Noirs (JP Bekolo, 2021) - "What is interesting... how do we call what we are doing now? I mean the ethnologist goes discover an unknown lost tribe to which he does not belong and me, I am doing the same but this is a lost tribe to which I may belong, so we can't call it ethnology... . By looking for the Other we are actually looking for ourselves."]
MID AIR PROGRAMME: Amelia Umuhire, Fatou Kandé Senghor, Jean-Pierre Bekolo
MAY 07, 17:00, GLORIA CINEMA: echos of beginnings
Integration Report (Madeline Anderson, 1960, 23') Speeches, voice pitches, mood. Putting discrimination into words. Police violence. Resistance. Marching. Protest. Tense, happy, serious faces, sunglasses, the attitude of women, men, children. How a black civil rights movement is forming. And a speech in solidarity by the Kenyan trade unionist Tom Mboya.
In The Year of The Quiet Sun (The Otolith Group, 2013, 34') The stamps themselves are interesting: we notice their schematic design of 1960s commercial art and advertising; and the modernist fonts which situate them firmly in the American context from which they were generated and distributed. Why, asks the narrator, are the symbols of Pan-African liberation and decolonization designed on Wall Street? (Tamar Garb)
Street 66 (Ayo Akingbade, 2018, 13') Chronicling the life of Ghanaian housing activist Dora Boatemah and her influence on the regeneration of Angell Town Estate in Brixton, South London.

[Integration Report, Madeline Anderson, 1960]

[In The Year of The Quiet Sun, The Otolith Group, 2013]

[Street 66, Ayo Akingbade, 2018]
MAY 08, 17:30, LICHTBURG CINEMA: echos of beginnings 
Elles (Ahmed Lallem 1966, 22') Four years after Algerian independence, Ahmed Lallem discusses with female high school students and asks them about their wishes, their views. He takes these encounters as an opportunity to reflect on the status of emancipation in Algerian society. For whom was the "revolution" invented?
Archie Shepp à Alger (Théo Robichet, 1971, 17') One of the most outstanding encounters in the history of jazz. The short film shows Archie Shepp's concert in the streets of Algiers during the legendary first Pan-African Festival in 1969, where the free-jazz saxophonist improvised with fellow jazz greats Alan Silva, Sunny Murray, Clifford Thornton and Grachan Moncur III.
The Algerian Novel, Chapter 3 (Katia Kameli 2019, 45') In this chapter the analysis of history is based primarily on photographs or images of Marie-José Mondzain and Louiza Ammi, and on found footage from the Film La Nouba des femmes du Mont Chenoua (1979) by Assia Djebar. The method of re-reading images and the practice of photography get into conversation.


above: filmstills, Elles, Ahmed Lallem 1966; below: filmstills, The Algerian Novel, Chapter 3, Katia Kameli 2019


The issue of juxtaposition, of agreement, of interface – all necessary tools for synchronization – also tends to lead to questions concerning the film canon. The list of 50 favourite films compiled by Jean-Pierre Bekolo at the request of La Cinetek includes, for example, Michael Haneke's Benny's Video alongside Flora Gomes' Mortu Nega, David Lynch's Mullholland Drive alongside Souleymane Cissé's Yeleen, Djibril Diop Mambéty alongside Stanley Kubrick. It is also just one of many possible and practical ways of shifting emphases within the attention economy to decolonise and bring into synch the cinematographic understanding of the world just a little, but it is something at least.