Trondheim: Slow Education
TRACK LIST
The wide-ranging vinyl record collection at Trondheim Folkebiblioteket will be the starting and entry point for polyphonous narratives, across genres, beats and continents. Artists, producers, journalists, and researchers with an affinity for music, have been invited to explore the library and create evening class listening sessions.Their multiple approaches and listening habits may allow us to hear (and see) what otherwise goes unnoticed.

Rådhussalen, Peter Egges plass 1, (7pm- 9pm, January 18)

Rådhussalen, Peter Egges plass 1, (7pm- 9pm, 23 Nov)
Over three pieces by The Velvet Underground, Robert Ashley and Jenny Hval, and through a selection of record covers, this listening session will unfold the background- foreground relations that construct the complexity of an album: cover aesthetics, lyrics, volume, and modes of narration emerging between sounds, meaning and overtones.
Rådhussalen, Peter Egges plass 1, (7pm- 9pm, 11 Nov)
In this evening class on the structures of sound and music, the records of Pharmakon, Aphex Twin and Kraftwerkwill operate as information systems. Their (musical) analysis turns into an investigatory means of phenomenal perception and the structure of reality in order to proclaim music's capacity for philosophical scrutiny. We will dissect scientific icons like noise, entropy and information, and position them as performing cultural roles such as, bridging art and science with the micro- and macro expressions of music.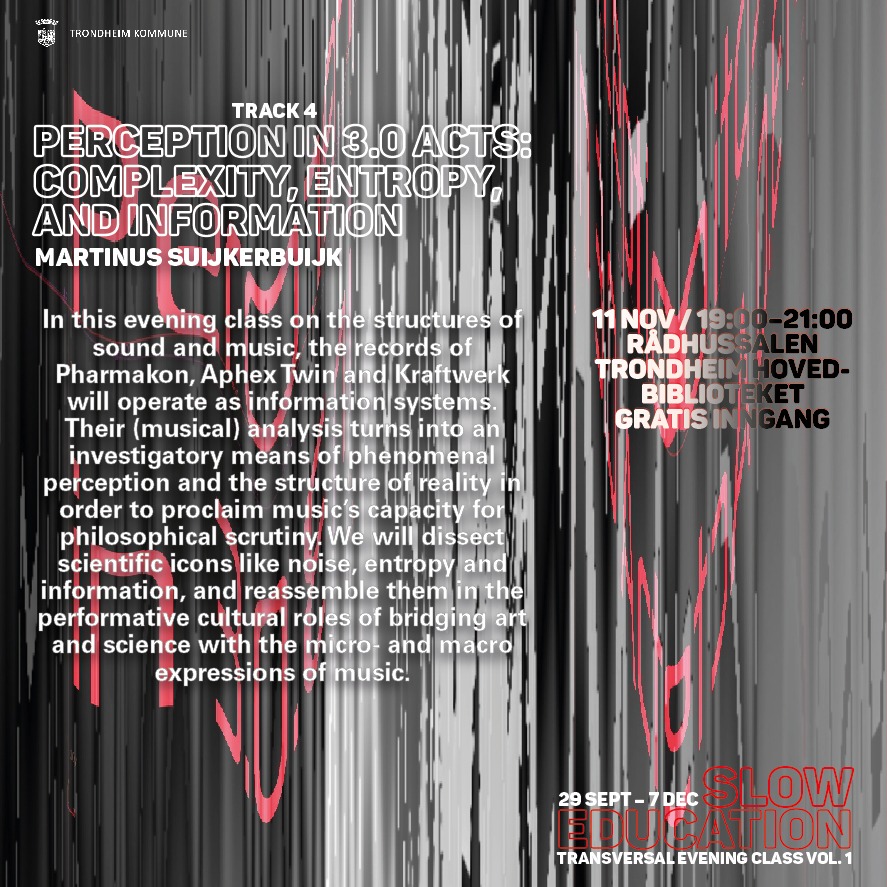 Rådhussalen, Peter Egges plass 1, (7pm- 9pm, 28 Oct)
This session will tackle the different facets of the renowned composer Arne Nordheim's musical language. For instance, 'Solitaire' is one of his most known electronic pieces, 'Lux et Tenebrae' is a concert version from Nordheim's ambitious contribution to the Scandinavian pavilion at EXPO'70 in Osaka.
In 1969, the Norwegian TV debate show Åpen Post hosted two opposing teams: on the one hand, the proponents of pop music defended the right to like a "happy, simple melody," and claimed not to understand art and contemporary music. On the other, the advocates of "intellectual music" advanced that music should have quality and a message. Mockingly, during the debate, singer and actress Elisabeth Grannemann performed a song while breaking dishes, while the pianist imitated contemporary piano performance techniques, in reference to Arne Nordheim's music. Nordheim, among others, responded by composing a piece that was "pop music with avant-garde qualities."

Rådhussalen, Peter Egges plass 1, (7pm- 9pm, 12 Oct)
Don't let your eardrums collect dust like the unread books in the library. To crack the algorithms you just have to make a choice, Making a choice can make you listen what you might have never heard before. Look into the glitch, the open space, carry on the message that may have started 60 years ago into the future. Support your local library, fill your frontal lobe and the rest of your brain with pleasurable and disturbing sounds of cultural agitation. Crack the playlist now. Don't let your eardrums collect dust like the unread books in the library. (Alex Murray-Leslie, Melissa Logan, Unnur Einarsdottir)